LR Awards AIP for Rotoboost's Pre-combustion Carbon Capture System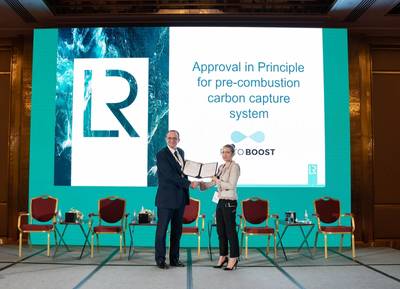 Classification society Lloyd's Register (LR) said it has awarded approval in principle (AIP) to Rotoboost, a Nordic hydrogen production company, for its pre-combustion Carbon Capture System (CCS) Rotobox. Rotobox uses thermocatalytic decomposition process (TCD) onboard marine vessels, where part of the natural gas fuel supply is converted into hydrogen and graphite with a liquid catalyst.
The TCD process significantly reduces CO2 emissions, particulate matter and methane slip by producing hydrogen while capturing carbon in its solid form. Rotobox has the capacity to reduce overall carbon emissions by up to 100%, depending on the heating method used. Converted hydrogen from the CCS can be used for fuel cells or as blend-in fuel for combustion engines or gas-fired boilers.
Rotoboost's solution is scalable to meet future emission regulations, with lower electrical power requirements compared to conventional carbon capture systems and less storage space needed for solid carbon, allowing the system and associated storage to remain compact even for long voyages. The system is well suited to liquefied natural gas (LNG) carriers and other LNG-fueled vessels, offering an additional option for shipowners for decarbonizing.
The AIP validates Rotoboost's CCS system as compliant with LR's goal-based and comprehensive prescriptive requirements, marking a further milestone in the development of carbon capture technology.
Kaisa Nikulainen, Rotoboost Chief Executive Officer, said, "Our technology introduces a new perspective on fossil fuels, demonstrating how they can be equally green when used innovatively. In addition to hydrogen as a green blend-in fuel, our byproduct, pyrolytic graphite, is also an excellent battery-grade anode material for electric cars and green steel production. This circular economy creates a powerful tool to combat global warming and climate change on both land and sea. Our technology also demonstrates great potential in cost-effective production of green methanol and ammonia in land-based facilities, which further provides the shipping industry with other affordable alternative fuel options."
Andy McKeran, Lloyd's Register Chief Commercial Officer, said, "I believe that the decarbonization of shipping starts now, and we need to find solutions that reduce emissions today. Therefore, I am pleased to award the approval in principle to Rotoboost for their innovative carbon capture system. Solving the methane emissions perception in the industry, through technology and evidence enables LNG to become a future fuel that is readily available today, subject to affordability – which ranks higher than any other alleged lower emissions fuel available today."