Hamburg Süd's 'Santa Cruz' Now Flying Luxembourg Flag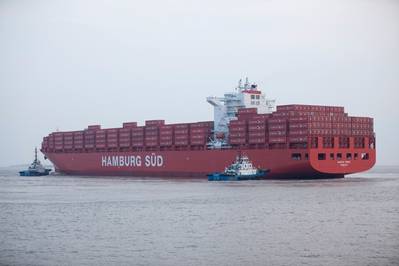 Previously operated under the Liberian flag, the 7,100 TEU container ship has been re-registered with the EU-member nation.
The "Santa Cruz", which sails in the Europe – South America East Coast liner service, is the first Hamburg Süd vessel to be entered in Luxembourg''s shipping register.

The move brings Hamburg Süd a step closer to its aim of operating 60 per cent of its owned ships under European flags. Of the 36 Hamburg Süd-owned vessels, 18 currently fly the German flag and one that of Luxembourg, which puts the proportion of owned ships under a European flag at 53 per cent.

It is planned to increase this proportion further. In late May, Hamburg Süd is due to take delivery of the newbuilding "Cap San Nicolas (9,100 TEU) from Korea''s Hyundai yard and plans to operate that vessel under a European flag as well.