M/V Centurion Del Atlantico Returns after Refurbishment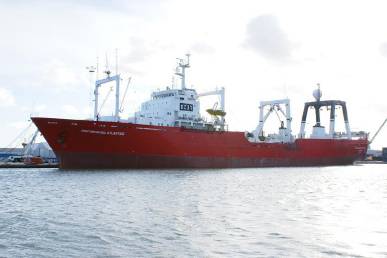 M/V Centurion Del Atlantico returned to the southern hemisphere after a major refurbishment May 30. MAN Diesel PrimeServ's Service Center in Frederikshavn, Denmark, has successfully completed a large main engine repair and overhaul job aboard the Argentine fishing factory trawler Centurion Del Atlantico. The 21-year-old vessel arrived at for a complete main engine overhaul and an extensive updating and renewal of the accommodation, and the fish factory processing plants. The Norwegian owner, Aker BioMarin, who is behind the company Estremar Argentina, decided to take the vessel all the way to the northern hemisphere due to the vast extent of technologically and rather specialist demanding tasks to be performed onboard. The Centurion Del Atlantico (originally built in 1986 as Akebono Maru, and the world's largest fishing vessel at that time) is a 118m factory trawler, fully operational with a crew of 100 persons. The vessel operates in the triangle between , the Falkland Islands and the . Various sorts of round fish like 'southern blue whiting' and 'hoki' are caught for the processing and fabrication of surimi.
The vessel is powered by a MHI license-built (Mitsubishi Heavy Industries) four-stroke medium-speed MAN Diesel main engine type 6L58/64, having clocked approximately 140,000 hours prior to arrival.
The extensive main engine tasks were handled by the MAN Diesel organisation's repair teams at PrimeServ Frederikshavn, supervised by Mr. Jörg Oppermann, MAN Diesel's L58/64-expert from PrimeServ . The MAN Diesel personnel were teamed up with Orskov Yard experts onboard managing the largest main engine components.