MacArtney Enable DCN Diving Project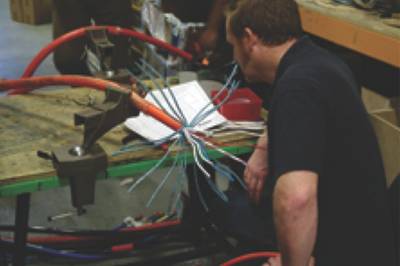 DCN Diving recently contracted MacArtney to build & deliver a range of underwater technology equipment for use on a major project.
DCN Diving had been called upon to perform a diver-habitat based inspection and repair of the inlet channels at a large European power plant. Critical projects like this often come with a challenging timeframe and this instance proved no different.

One of the challenges related to the project was the extensive length of the actual inlet tunnels, which required the umbilical cable for interfacing the control room and the diver habitats to be almost 900 metres long. Within this context, especially the loss of signal and power needed to be addressed.

In order to deliver a well planned and promptly executed solution, engineers from MacArtney and DCN Diving engaged in close teamwork from day one. A particular time-saving advantage to the process was that SubConn® connectors were already in stock at MacArtney.

The total contribution made by MacArtney included:

• 10 LUXUS Compact Cameras
• 6 LUXUS Compact LED Lights
• 4 LUXUS Wide Angle LED Lights
• Various light and camera controllers and amplifiers
• 6 dive umbilicals (camera, communications and light), including adapters
• Helmet brackets and brackets for on top of the diver habitat.
• 2 diver habitat umbilicals with 50 meter and 150 meter extension leads
• All technical drawings and test certificates

According to Ron Voerman, Managing Director of MacArtney Benelux: "Even though this project meant a lot of work and pressure of time, we enjoyed working closely with DCN Diving to achieve the best solution". He continues: "We hope and trust that our equipment will be of great benefit to DCN and help them do a good and safe job on their challenging project".