Maersk Secures Fuel for First Methanol Containership Journey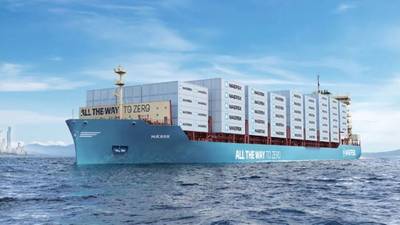 Denmark's Maersk said on Monday it has secured fuel for the first container vessel able to run on carbon-neutral methanol on its inaugural journey, from South Korea to Denmark.
The 21,500 km long summer trip from Ulsan to Copenhagen will be fuelled by bio-methanol fuel produced from biogas captured from decomposing organic landfill waste. This will be delivered from a U.S. plant by Dutch company OCI Global.
"The green methanol market is still in its infancy and frankly we had not expected to be able to secure a maiden voyage on green methanol for this vessel," said Morten Bo Christiansen, Head of Energy Transition at Maersk.
Maersk has ordered 19 methanol-enabled ships in an effort to reach its goal of transporting 25% of ocean cargo using green fuels by 2030. Overall the Danish shipping company aims to reach net zero greenhouse gas emissions by 2040.
"We expect a diverse green fuel mix for the future, with green bio-methanol from biomass waste being available now," Christiansen said.
Sourcing greener fuels remains one of the main challenges to achieving its targets and Maersk has forged multiple partnerships with suppliers and ports to keep a steady supply.
It has, for example, agreed to buy half of the capacity at a plant making e-methanol from sustainable energy in Denmark and team up with a Shanghai port on green methanol marine fuel.
(Reuters - Reporting by Johannes Birkebaek; Editing by Alexander Smith)