EIMA's Resource Management training in Middle East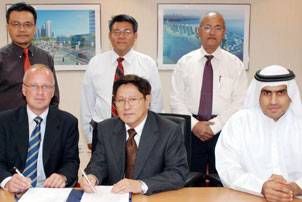 Emirates International Maritime Academy (EIMA) has announced that it has expanded its maritime training resources by becoming a Maritime Resource Management (MRM) provider in the Middle East after recently signing a licensing agreement with the Swedish Club Academy, a company associated with the Swedish Club, a lmarine mutual insurer from Sweden. The agreement was signed by Captain Jaafar bin Sidin, Director of EIMA, and Martin Hernqvist, Managing Director at the Swedish Club Academy.

Demand for specialized MRM training is expected to increase considerably as all merchant marine officers are required to attend an MRM course as part of the mandatory requirements to be a licensed Certificate of Competency holder. The MRM course is designed to minimize the risk of incidents by encouraging safe and responsible behavior, while it also helps foster positive attitude and strengthens personal communication, leadership excellence and compliance with operating procedures.

The principles covered by the MRM training course include recognition of the significance of consistent good management and teamwork; willingness to change behavior in a positive direction; and awareness of the importance of using common management-related terminology. The course will cover a series of workshops wherein errors and hazardous behavior are analyzed in a dynamic group, while various situations and actual accidents and incidents are explored from an MRM perspective.

In addition, the workshops will be supported by computer-based training modules that examine human interaction and management situations influencing the accident event. The MRM course will also include the principles regarding Bridge Resource Management (BRM) as outlined in Section B-VIII/2, part 3-1 of the Standards of Training, Certification and Watchkeeping (STCW) Code. There will be new requirements related to BRM and ERM in part A of the STCW. The MRM course meets and exceeds those requirements.