Romica Manufacturer Secures DNV GL Approval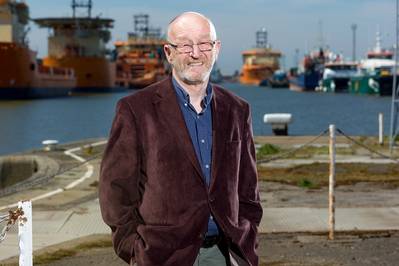 U.K. winch maker Romica said it is to "redouble its exports drive" after its Romania-based manufacturing partner successfully acquired accreditation with DNV GL.
Yorkshire based Romica is a designer, manufacturer and supplier of lift equipment and winches for use within the marine, renewables, ports and terminals, oil and gas and oceanographic sectors. It provides a 24/7 build, repair and maintenance service worldwide with agents in South Korea, Taiwan, India and Spain.
Romica is owned and run by Bob Turner and works in partnership with TIE Services International SRL, based in Satu Mare, Romania. TIE is a British-owned, Romanian-registered company run by Bob's son Mike Turner. TIE has secured the accreditation with DNV GL for its repair and manufacturing operations which it operates from its 7,000m2 fabrication facility.
Turner said TIE provides Romica with its fabrication services and has been the backbone of Romica 's activity for the last 13 years. He said TIE gaining the DNV GL accreditation sends a message to the marine and offshore industry about the caliber of Romica's winches, being manufactured by TIE, which already has certification for welding and fabrication including TUV ISO 9001, ISO 14001-2009 and TUV DIN EN ISO 3834-2.
"Romica and TIE work in partnership and our teams have worked tirelessly to win this approval from DNV GL," he said. "A group of surveyors came to inspect the TIE repair and manufacturing processes. Securing this accreditation gives the marketplace confidence that Romica's engineering meets the highest standards expected in the marine lift and offshore platform environment. I would point particularly to the caliber of TIE's welding which is now DNV GL certified. The Romica TIE teams work hand in hand and are always learning and always looking for ways to innovate and improve engineering processes. We hope TIE winning this accreditation will help Romica stand out even more for our quality. We especially want to market our
fabrication services across
the oil and gas and ship yard industries which require a wide range of outsourced fabrications services from furniture manufacturing to watertight doors to hatch covers. With 80pc of our sales coming from exports we see real scope for future growth in China, India,
America
, Korea and
Australia
."
"Our ethos is to work as a trusted partner of our clients," Turner said. "We want to deploy our engineering know-how to offer bespoke solutions – not easy off the shelf products. Romica is not removed from our customers we work as part of our clients' teams as a trusted supplier which is why we have so many long term customers. We will listen to what the client wants and together with TIE deliver a tailor made solution. That collaborative approach to problem solving gives Romica a real competitive advantage."