MARAD Approves First Ships for Its Tanker Security Program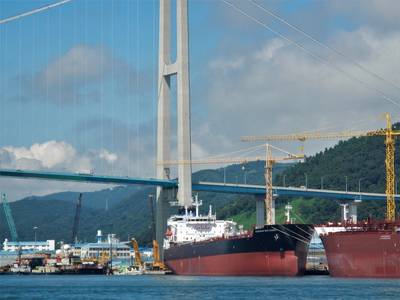 The U.S. Maritime Administration (MARAD) has approved the first vessels for participation in its Tanker Security Program (TSP), a newly created public-private partnership program that makes U.S.-flag commercial product tankers available to support U.S. armed forces.
Modeled from MARAD's Maritime Security Program (MSP), the TSP assures the Department of Defense has access to U.S.-registered product tankers that may be used to supply the armed forces with fuel during times of armed conflict or national emergency. The program is also designed to ensure that a core fleet of U.S.-based product tankers can operate competitively in international trade and enhance U.S. supply chain resiliency for liquid fuel products.
Tampa, Fla. based Overseas Shipholding Group (OSG) said on Wednesday that three of its medium range tankers—Overseas Santorini, Overseas Mykonos, and Overseas Sun Coast—are among the 10 vessels approved for the TSP.
MARAD did not immediately respond to MarineLink's request for information on the other participating vessels.
Each participating vessel will receive a $6 million stipend from the U.S. government each year. Congress appropriated funding for the TSP in the Fiscal Year 2022 Consolidated Appropriations Act.
Sam Norton, OSG's CEO and president, said, "We are proud to be admitted into the TSP program and to be able to support the U.S. government in its military efforts. In addition to expanding the number of available, militarily useful, U.S. flagged tankers, a prime objective of the TSP is to deepen and broaden the pool of domestic merchant mariners who possess the requisite skills and experience to support a right-sized U.S. flag tanker fleet. A future with more jobs for American mariners is an unequivocally good thing."