GE Marine to Power Naval Ship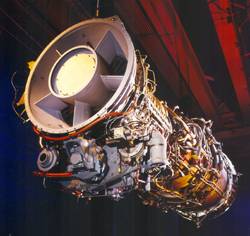 GE Marine reports that it will provide Austal USA, Mobile, Alabama, with two LM2500 aeroderivative gas turbines to power the United States Navy's fourth LCS-Class-Independence variant. The new LCS will be named USS Montgomery, and will be powered by the LM2500s arranged in a COmbined Diesel and Gas turbine (CODAG) configuration with two diesel engines.
Austal USA plans to launch the second LCS-Class-Independence variant USS Coronado in the fourth quarter 2011. This vessel is also powered by two LM2500s in a CODAG configuration.
"This new LM2500 contract for the USS Montgomery comes on the heels of another order with Austal USA announced in May 2011, whereby GE will supply LM2500s for the third LCS-Class-Independence variant USS Jackson," said Brien Bolsinger, GE Marine general manager. "This most recent order brings the total to eight LM2500s GE will provide to Austal USA for LCS-Class-Independence variants, and is part of a contract for up to 10 ships over a five-year period."
On March 24, 2011 in Mobile the Honorable Ray Mabus, Secretary of the Navy discussed how names were selected for the two recent LCS ships: "Jackson has never had a ship named after it, and so this will be the first that has ever been named the USS Jackson. There has been one USS Montgomery, named after the state capital here, but it sailed during the Spanish-American War – it was a cruiser. So it's been a few years since Montgomery has been similarly honored. These two ships will take forth the history and the pride of Alabama and Mississippi for decades to come as they sail around the world, as they do the business of the United States."
The 127-meter aluminum trimaran LCS is an agile surface combatant that can be deployed independently to overseas littoral regions, can remain on station for an extended period either with a battle group or through a forward-basing arrangement, and is capable of underway replenishment.
The LM2500 gas turbines for the USS Montgomery will be manufactured at GE's Evendale, Ohio, facility, and will be delivered to Austal USA in October 2012.