DMCA: Maritime Industry Workshop in Dubai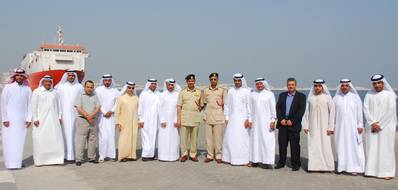 Dubai Maritime City Authority (DMCA), the government authority in charge of regulating and supervising all aspects of the maritime sector in Dubai, has held today (Monday, June 25, 2012) the first-ever maritime industry workshop in Dubai attended by key maritime industry partners in the emirate.
The workshop was organized in line with the strategic cooperation and collaboration between DMCA and its industry partners to create an integrated ecosystem that complies with the highest international standards of sustainability and maritime safety. The initiative likewise aims to reinforce Dubai's position as a leading international maritime hub.
Officials from different entities were invited to attend the workshop, which is expected to be organized annually. Among the attendees were representatives from Dubai Customs, Dubai Ports Police Station, DP World, Drydocks World, Dubai Municipality, Department of Tourism, Roads and Transport Authority (RTA) and Dubai Maritime City Authority. DMCA expects to gather more participants from various industry segments and governmental and non-governmental bodies in the future editions of the workshop.
Serving as a roundtable meeting, the event included presentations by all participating entities from the maritime industry to shed light on their roles in promoting the maritime sector, while maintaining sustainable development and ensuring close communication and collaboration.
Led by DMCA, the workshop also featured an in-depth discussion of pressing issues related to the Emirate's efforts to boost its maritime competitiveness at the regional and global level. The participants also exchanged knowledge and experiences to achieve their mutual goals and aspirations.
"The workshop is the first of its kind in Dubai to gather such extensive participation from key industry players in the country to discuss the development of the maritime industry," said Amer Ali, CEO, Dubai Maritime City Authority. "Organizing regular workshops, meetings and seminars with industry stakeholders can contribute to the establishment of effective channels of cooperation and communication to benefit the Emirate and support its strategies to promote maritime services. The participation of strategic industry partners demonstrates the ongoing efforts to achieve better results in line with our mutual aspirations to support vital businesses and promote integration and development in the country and region."
"We have touched on all the issues of mutual interest, with particular focus on the organization and development of the maritime sector and promotion of maritime safety, sustainability and competitiveness. We believe that this meeting will play a significant role in our attempt to lay down more effective strategies that can strengthen Dubai's foothold as a leading hub for maritime development and excellence," he added.