Maritime Legend Passes Away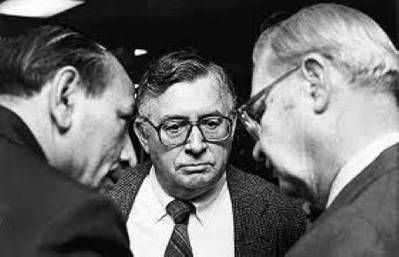 Captain Robert M. Cusick Jr., a merchant marine officer who survived the wreck of the SS Marine Electric and then helped lead a major reform of US maritime safety standards, died peacefully in his sleep in New Hampshire on Thursday, September 12, 2013, according to Carol Cusick, his daughter. He was 90 years old.
Against the advice of many friends and colleagues, Captain Cusick testified at a US Marine Board of Investigation and detailed how inspectors and company officials overlooked numerous holes in the hatches, decks and hull of the Marine Electric, an old, dilapidated World War II era tanker converted to coal carrier, (according to Robert R. Frump, former maritime writer for The Philadelphia Inquirer and author of a book about the wreck entitled "Until the Sea Shall Free Them.")
The reforms that Captain Cusick's efforts helped establish included the creation of the now famous US Coast Guard Rescue Swimmers service, the scrapping of 70 old unsafe ships and the requirement of survival suits aboard North Atlantic run vessels," Mr. Frump said.
By most standards of survival and hypothermia, Captain Cusick, the chief mate of the SS Marine Electric, ought to have perished with dozens of others in February 1983. The SS Marine Electric foundered during a severe storm in February 1983, spilling 34 men into icy cold water where they faced sixty foot waves and below-freezing winds.

Life expectancy in such conditions is as little as 15 minutes, but Captain Cusick, wo was 59 at the time, managed to find a half-submerged lifeboat and as he felt himself fading sang out a song written by Canadian folk singer Stan Rogers with the lines, "Rise again, rise again! Like the Mary Ellen Carter, rise again!" He attributed his survival to that and a warm coat and hat given to him by his wife, Mrs. Bea Cusick.
Captain Cusick was warned by colleagues that his testimony would bring the ire of the ship's owner, Marine Transport Lines, and indeed company attorneys sought to pin the responsibility for the wreck on Captain Cusick.However, Captain Cusick kept detailed records of his complaints to the captain of the Marine Electric, with drawings of holes and other maintenance problems on the old ship. His logs, cross-checked against Coast Guard inspections, showed the hatches were approved by the Coast Guard at a time when the hatches were not even installed on the vessel, Mr. Frump wrote.

Captain Cusick's testimony helped convince the Board of Investigation to write a highly critical report, calling on the Coast Guard to crack down on inspections. Marine Transport Line later pleaded guilty to a felony criminal count brought by federal authorities. Over the previous 20 years, old ships such as the Marine Electric had accounted for more than 500 deaths at sea. More than 70 were scrapped in the wake of Captain Cusick's testimony.

Captain Cusick grew up in Boston and began his life at sea as a member of the Sea Scouts, a maritime version of the Boy Scouts of America. He was attending the prestigious Boston Latin school when at the beginning of World War II, he shipped out as a merchant seamen at a time when German submarines were taking a terrible toll of Atlantic Coast shipping.

He survived the war, often narrowly missing ships that would sail to their doom, and by its end was a merchant marine officer. Mechant mariners, historians say, suffered among the highest per capita losses during the War, second only to the U.S. Marines.

He would later gain his master's license and sailed for three decades on US flag ships as an officer. He preferred to sail as chief mate – the number two position on a merchant ship – so that he could deal directly with ship mates. He was a popular officer with a kind heart and a quick wit, often taking young crewmen and officers under his wing for mentoring.

His actions are detailed in a book, "Until the Sea Shall Free Them," written about the wreck of the Marine Electric.

Captain Cusick is survived by his wife, Bea, his daughter, Carol, both of Hillsboro. Arrangements: Wednesday 18 September, 6-8pm, visiting hours at Woodbury/Holt funeral home on School St. in Hillsboro. Service Thursday 19 September, 11 am, at St. Mary's Church, followed by a send off at the Legion Hall. Woodbury/Holt contact information is 32 School St Hillsboro, NH 03244 
(603) 464-5501




SS Marine Electric: Image credit: the author