World Maritime Offshore Orders 6 WFSV's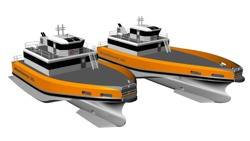 World Marine Offshore orders six wind farm support vessels (WFSV) from Norwegian shipyard, Fjellstrand

The offshore wind industry is experiencing a dynamic growth and with this new order Fjellstrand says it has answered the industry's challenge of making fuel-efficient vessels which provide stable, safe and effective access to the wind farms.
With support from the Carbon Trust, Fjellstrand addressed these market requirements and developed a new concept, the "WindServer", for the transportation of technicians and components to the offshore wind farms.

The new WindServer trimaran SWATH design introduces a new level in sea-keeping performance and transport efficiency. All six vessels will enter service in 2013 for major wind farm operators.
The aluminium hulls will be delivered in two sizes, 25 metres and 30 metres in length, carrying 12 and 24 service personnel respectively, with a service speed of 25 knots. Four engine installations powering two controllable pitch propellers ensure redundancy and flexibility to the operation. The vessels will be equipped with ballasting systems to shift between rough weather SWATH mode and light weight transit mode.
This, in combination with an integrated stabilizing foil, ensures a robust hull with low maintenance costs. "The foil will have no moving parts", says naval architect Olav Kjetil Opheim who has been managing the WindServer project from its conception.
The new vessels for World Marine Offshore will be able ot carry out various tasks offshore: crew transfer, cargo transfer, search & rescue, survey, as well as diving operations