Final Stage of Dubai Maritime Sector Strategy Begins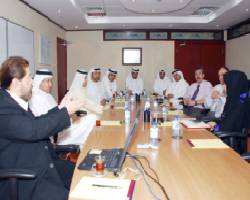 Efforts Focus on Enhancing Dubai's Position as World-Class Maritime Center

Government and non-government entities working in the maritime sector of Dubai and associated with it, are reaching the final stages of the development of a comprehensive, first-of-its-kind maritime sector strategy (MSS) for the Emirate. The MSS will help Dubai lay the foundation for the creation of a sustainable and competitive maritime offering that will position Dubai at par with world leading maritime centers.

In a meeting that was held recently at the headquarters of Dubai Maritime City Authority by representatives from the strategy development teams involved in the project, it was announced that 80% of the strategy has been completed. The main goals and strategic aims of the new strategy are developed in line with the overall Dubai Strategic Plan, and are designed to support that strategy, in making Dubai a center of excellence in all aspects of the maritime industry.

The meeting was attended by senior officials from the strategy teams in the organizations involved in the development of MSS, and these include: Amer Ali, the Executive Director of DMCA, Ali Al-Daboos, Executive Director of Operations at DMCA, Bassam Abu AlSaoud, Director of Strategy and Corporate Support at DP World, Hamad Bin Mejrin, Executive Director, Government of Dubai Department of Tourism & Commerce Marketing, Sarah Ishaq, Chief Engineer, Transportation Planning and Policies at RTA, Faeq Maslama, Senior Maritime Specialist, Marine Transportation Department – RTA, and other senior government officials.

The total number of government and non-government entities involved in the development of the Dubai MSS is 30. These are divided into three main groups: an internal core team, an external core team, and an external consultative and support team.

Source: Dubai Maritime City Authority