USS Iwo Jima, USS New York Return to Mayport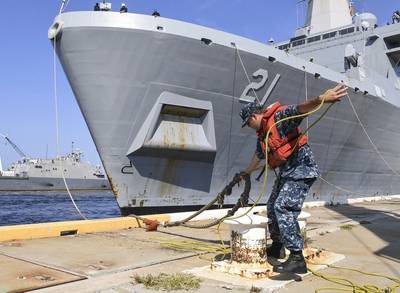 The amphibious assault ship USS Iwo Jima (LHD 7), the amphibious transport dock ship USS New York (LPD 21), along with multiple embarked Navy and Marine Corps units, completed initial rescue and recovery operations in support of federal and state officials Sept. 17, following Hurricane Irma's devastation of the Florida Keys.
Iwo Jima and New York are scheduled to return home Sept 19.
Led by Commander,
Carrier Strike Group
(CSG) 10, the Navy and Marine Corps units partnered with the
Federal Emergency Management Agency
(FEMA) and with state and local officials until civilian authorities and the Florida National Guard could take over long-term recovery operations.
While on station, Sailors and Marines worked along the Lower Keys, from Marathon to Key West, clearing debris from 15 miles of roadway, distributing food, water, tarps, and blankets, and repairing generators and other critical infrastructure such as water-pumping stations.
The combined ships have almost 2,000 Sailors and Marines who provided expeditionary logistic support, medium and heavy lift air support, medical support, maritime civil affairs and maritime security.
Iwo Jima and New York departed their homeport in Mayport, Florida, Sept. 5, and conducted an onload in Norfolk of more than 300 Marines and Sailors with the
26th Marine Expeditionary Unit
, 2nd Marine Aircraft Wing and II Marine Expeditionary Force.