McLoughlin Launches New Harbor Tug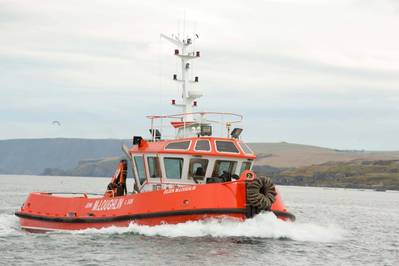 The latest general purpose harbour tug built by Macduff Shipyards has been launched, powered by WaterMota supplied engines.

Eileen McLoughlin, owned and operated by John McLoughlin and Son (Shipping) Ltd. of Larne and Belfast, is the sister ship to Sally McLoughlin which was built in 2009. Both tugs are powered by twin Doosan 4V222TIH engines, each 588KW at 1,800RPM continuous output driving twin screws - four-blade 1,850mm diameter propellers in fixed nozzles.

With a breadth of 6.2m and depth of 2.9m, Eileen McLoughlin has a transom stern and raked stem, with a centre skeg aft. She has been designed for towing, pushing, pilotage, plough dredging, surveying and lifting.

The vessel is 46 metric tons with a four-metric-ton water ballast, has a running speed of 10.3 knots with a 120,000-liter fuel capacity and a fresh water tank capacity of 215 liters.

She also has two Azcue bilge pumps fitted - also supplied by WaterMota - one motor driven and one belt driven.

Her hull and wheelhouse, featuring a comprehensive range of equipment, are of steel construction with the wheelhouse forward of amidships. She has a forepeak ballast tank, crew room with seating area and toilet facilities, engine room and a steering compartment complete with store.

On deck, Eileen McLoughlin has two winches, a deck crane, towing hook and deck pads for fitting a portable aft gantry for lifting a plough dredge.

"Sally McLoughlin has proved to be very reliable as a general purpose tug boat and I'm confident Eileen McLoughlin will prove just as successful," said WaterMota sales manager, Tony Fryer. "Doosan engines are a popular choice for workboats due to their non-sophistication and lack of electronic controls. The engines are very dependable and fuel efficient - ideal for this market."

The vessel is suitable for operating in Category 2 waters and built to the requirements of the Maritime and Coastguard Agency Small Commercial Vessel and Pilot Vessel Code of Practice.

The Doosan 4V222TIH is a heavy duty 12-cylinder Vee four-stroke model with a rating output of 588W (800 bhp) and a displacement of 22 liters. The engine (marine rated to ISO 3046) also benefits from direct-injection, mechanical variable speed governor system and water cooled turbo chargers with an inter-cooler.