New Load Measurement Solution for Port of Dampier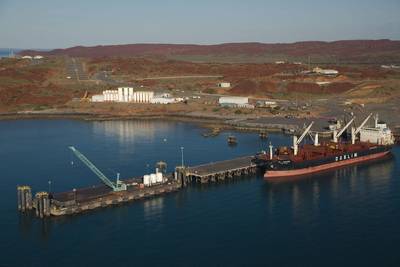 Strainstall designs and delivers a load measurement solution for the world's largest floating wharf at Port of Dampier.
Strainstall, part of James Fisher and Sons plc, was commissioned to design and deliver a load monitoring system for the Dampier Floating Deck - the world's largest floating wharf at the port of Dampier, Western Australia.

The wharf, located in some of the most challenging marine operational conditions, is a new concept in jetty extension and Strainstall's bespoke solution has been designed to monitor the load between the floating deck and the main cargo jetty piles during mooring operations. The system offers reassurance during critical operations by providing engineers with detailed data and analysis on the performance of the structure, as well as indicating when load thresholds have been exceeded to significantly increase operational safety.

"For our customers, this means that a vessel can now come to the Port of Dampier without fear of berth shortages, and will not only be able to complete a cargo exchange but also take on all of the consumables and fluids it needs in one stop, rather than have to move or endure a lengthy wait," said Damian Burton, regional manager at Patrick Bulk Port Services – owner of the floating wharf. "It's a welcome and decisive market advantage that our Pilbara-based team is embracing." He added.


The fully bespoke system comprises 64, 200 tonne diaphragm load cells which feed into Strainstall's analogue to digital load cell amplifiers (recently developed for use with TLP tendon tension monitoring systems), a full software package and a traffic light overload warning system. Operating in real-time, a radio data link will also enable port staff to permanently monitor the status of the deck from a remote location in the port allowing any remedial action to be taken when necessary.

A number of James Fisher group companies have had significant involvement in the Dampier Floating Deck project, including Maritime Engineers which was instrumental in the design and motions analysis of the floating wharf.
Fendercare Australia also supplied 22 Yokohama fenders to the project.