Coast Guard Medevacs 1 from Sailboat in GOM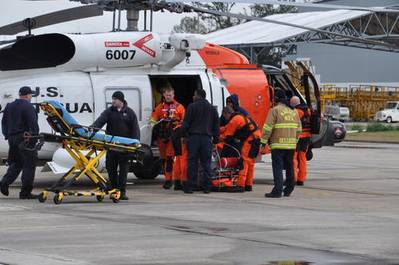 A Coast Guard aircrew medevaced a man from a 64-foot sailboat 200 miles offshore New Orleans in the Gulf of Mexico, Thursday.

Watchstanders at the 8th Coast Guard District command center received a call from the son, who reported his stepfather and mother were in distress aboard the sailboat Paradise beset by heavy weather. The son reported the couple were on their way back to Houston after a trip to Cozumel, Mexico. The 8th District watchstanders reached the Paradise by iridium satellite phone and learned the stepfather had a history of heart disease and reportedly slumped over and was unresponsive. The mother reported they were caught in bad weather and thought her husband had a heart attack.

A Coast Guard Aviation Training Center Mobile, Ala., launched an MH-60T Jayhawk helicopter crew to the Paradise at approximately 6:15 a.m. and arrived on scene at 9 a.m. The crew safely hoisted the man and his wife from the sailboat and transfered them to Coast Guard Air Station New Orleans in Belle Chasse. Acadian Emergency Medical Services personnel took the man and his wife to Ochsner Medical Center — West Bank Campus in Gretna.
The MH-60T feature enhanced multi-mission capabilities and improved reliability for mission performance. Enhanced radar and optical sensors contribute to an improved common operating picture and maritime domain awareness.
"This case highlights the success of a new technology for our nation's search-and-rescue mission execution," said Lt. Rob Mackenzie, ATC Mobile MH-60 pilot. "This model really improves our situational awareness and allows us to do things we could not do with the older J model [MH-60J]. With moving maps and the ability to overlay flight plans, everything is crystal clear, makes flying the aircraft much easier."
The man's condition was reported as stable upon arrival to Air Station New Orleans.