US Warship Rescues 128 From Sinking Raft in Mediterranean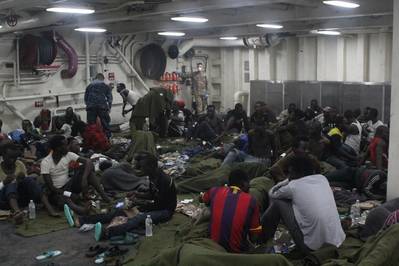 Amphibious transport dock ship 'USS San Antonio' was alerted by the Maltese Government to the plight of a raft crowded with immigrants in heavy weather in the central Mediterranean Sea.
Winds and seas were rocking the raft when it was spotted by a Maltese patrol aircraft. Shortly afterwards, the Maltese government contacted several ships in the area, as well as U.S. 6th Fleet, headquartered in Naples, Italy, and requested rescue assistance.
San Antonio was a little more than 60 nautical miles away when she was directed to assist; soon after, her crew began transferring the individuals using two 11-man rigid hull inflatable boats. 

In all, 128 men between the ages of 20 and 30 were rescued from the raft and were provided with food, water, medical attention, and temporary shelter.
At the present time the Navy report that assistance efforts at the scene were continuing.