Meet the CIO: Erika Graziuso, Crowley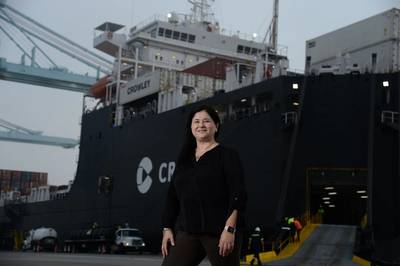 Erika Graziuso, Chief Information Officer, Crowley, brings a breadth and depth of non-maritime experience to bear in her quest to drive Crowley's digital transformation in the name of decarbonization, holistic transportation efficiency and crew attraction and retention.

---
Emulating best practices from industries outside of maritime has been a mantra in boardrooms and conferences for decades, as traditional maritime mindset has, at times, been seen as an impediment to achieving next-level efficiency.
Enter Erika Graziuso, Chief Information Officer, Crowley.
Her tenure at Crowley and her experience in maritime match: one year. But while Graziuso is short on maritime experience, she comes well-equipped with a depth and breadth of digital transformation experience and accomplishments, working globally with huge, complex, organizations, includin nearly two decades with Deutsche Bank [50,000+ employees] and another five at The Adecco Group [35,000+ employees], a Fortune 500 company leader in the HR industry.
So while the transition from corporate behemoths to a medium-sized American company might not seem the most logical move, Graziuso saw opportunity aplenty, starting with the roots of this iconic U.S. maritime company.
"There were a few things that attracted me to shift my career from huge European companies to a U.S. medium sized company in a completely different industry," said Graziuso. The first was the legacy of the company itself, started by one man with one boat in 1892, building a legacy and a family company that has not only withstood the test of time and generations, it has flourished and grown to be a brand and culture leader in the sector.
"I was fascinated by the idea of how it is to be in a company where there is this concept of being a family. Obviously, we are professional, but still there is this strong concept of belonging to a legacy."
In tandem, she was intrigued to jump into an industry that was far from its peak of digital transformation. "The banking started its technology transformation years ago due to regulation, competition, and market pressure," said Graziuso, seeing her new job with Crowley and maritime as more creation than refinement of digital transformation.
Last, but certainly not least, she gives props to her new boss, his forward-looking perspective and his vision to build on the organization's 130-year legacy, as well as his penchant to not simply 'talk the talk' but to also 'walk the walk' in terms of real and meaningful investment. "The long-term strategy that Tom Crowley has in mind, not just for shipping but for all business lines, is forward looking and exciting; it is with feet on the ground and eyes on the sky. It's a balance between being practical in what we are doing today, but having an eye on the future."
So today Graziuso sits at the helm of Crowley's digital transformation across business lines. "It's the infrastructure, it's the technology to enable the business growth, it's data, it's everything that is related to digital journey," she said. "Unlike big organization where they have these roles split in three C levels – CDO, CIO and CTO – because of our size, and also because of the synergies of our teams, I have a combined responsibility. In a nutshell, I'm responsible for the technology of the company plus the data strategy and the digital journey."
"He [Tom Crowley] knows the importance of technology; we don't have to convince him," said Graziuso, noting that's not always the case as "technology can be a heavy lift from a cost standpoint. When there are tensions from revenues and the bottom line, the first thing you do is to cut technology costs, which is not the case here."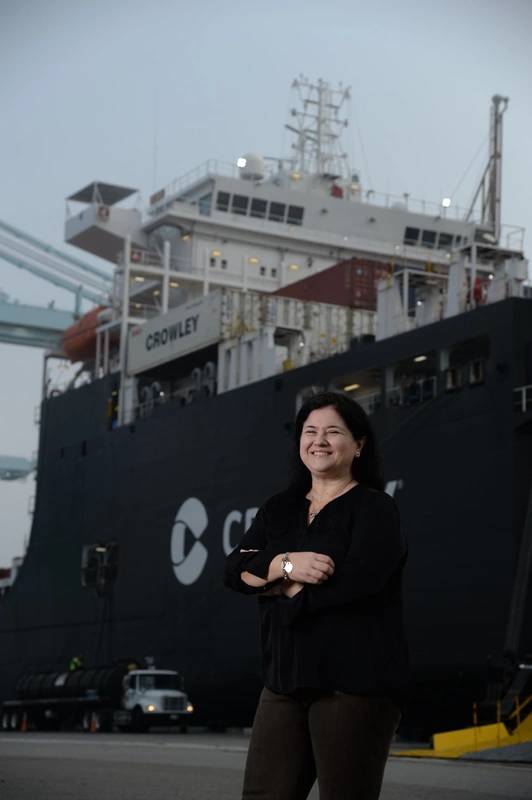 The high-speed network is the base of a pyramid, its foundation. We are working to make sure that we go paperless, that we use data as much as we can to [for example] become predictive from a maintenance and repair perspective and the consumption of our resources."
Erika Graziuso, Chief Information Officer, Crowley
Photo credit Rick Wilson/Courtesy Crowley
Starting the 1,000-Mile Journey
The axiom 'a 1,000-mile journey starts with a single step' is apt in Graziuso's case when joining the maritime industry, as she readily admits she had a lot to learn when looking at the company assets and assessing the job to connect them.
"In my mind the ship was like a building, and the only difference was that one is floating [with 30-40 people in it], another is attached to the ground." In looking at it from that perspective, she questioned the complexity and amount of investment.
But it didn't take her long to realize that here initial perception was wrong.
"I realized that it's not just a floating building, it's much more complex from many points of view. The first one is our crew, the mariners and the people that spend their time on the vessel. They do not consider it just a building, but their house, too," said Graziuso.
Also, in the case of a physical building, if there's an IT problem the connection to the building can be cut overnight or over the weekend. "That's a concept you cannot apply on the vessel, because it's not just work, it's their life and they need to be connected" she said, particularly the new generation that "is born with a cell phone in their hand. In the past [24/7 high speed connectivity] was a luxury, now it is a 'must,'" and in fact, foundational to the digitalization journey.
Courtesy of easy access to the ships, captains and crew, Graziuso quickly changed her initital perception and "heard loud and clear" that having a high-speed network available 24/7/365 was a 'must have.' She considers the connectivity a foundational element in building Crowley's digital pyramid, a mandate that is being carried out today. By the end of the year nearly every vessel in the fleet will be connected this way.
While high-speed connectivity is an imperative to attract and retain mariners, it's a business priority too, enabling the entire crew to stop working in offline silos, waiting to upload or transmit only when close to shore where high-speed connectivity was traditionally had.
In this regard, Crowley has evolved to Starlink with Inmarsat as a back-up, helping to digitalize onboard processes and create a seamless, always-on workflow as if the crew were sitting on their desktops and laptops on shore. Having a back-up system is also key to ensuring safety at sea, and when it comes to network connectivity, Graziuso is brand agnostic. "I don't think the brand is important; today it's Starlink, tomorrow it could be something else," said Graziuso, noting that what is relevant is that her team will seek, evaluate and implement innovation, regardless of brand, that provides a 24/7 high-speed network that foundational enabler for Crowley's digital processes. "The high-speed network is the base of a pyramid, its foundation. We are working on to make sure that we go paperless, that we use data as much as we can to [for example] becoming predictive from a maintenance and repair perspective and the consumption of our resources."
Eying the 'Future of the Future' ... Decarbonization
While Graziuso admits that everything in her department is geared toward making an impact, from crew attraction and retention to process simplification, she has her eye in the sky today as Crowley invests in "the future of the future, which is decarbonization." Here, as every shipowner knows all too well, is where the picture starts to muddle, particularly when investing in upgrading existing ships and boats.
"[The path to decarbonization] does not just come with new tools, new software as a service; that comes with the building new ships that are enabled to be hybrid or completely electric," she said, with Crowley aiming to have a state-of-the-art vessel that can be a role model from the next-generation of technology.
Naturally, talk quickly turns to machine learning and artificial intelligence (AI) in any digital journey conversation, but Graziuso positions the conversation differently.
"Everyone talks of AI, but AI needs data and data needs to be timely, accurate, and relevant," said Graziuso. "To have timely, accurate, and relevant data, you need a very simple operation tool or an operation tool that is built with the simplicity; not a very simple operation tool because being simple is complex."
She sees machine learning and AI as an enabler, a tool that could be particularly useful in conducting predictive maintenance onboard vessels, for example; to enable onboard inspection before a ship comes into port and without someone stepping onboard; and in leveraging shoreside assets to keep onboard crew out of dirty and dangerous spaces. It all comes back to the pyramid analogy, of having the connectivity foundation; acquiring that timely, accurate and relevant data, and utilizing that data to generate meaningful impact.
"You can't go to the tip [of the pyramid] without having the foundation. Does that mean we are working on [one layer at a time?] … No. This is a staggered pyramid where we work on the different layers [simultaneously], and at a certain point they will all align. So today we are working on the foundation, the network; we are working on the operation and we are halfway through. By the middle of next year this will be done. But in parallel we are working on what to do with the data, too."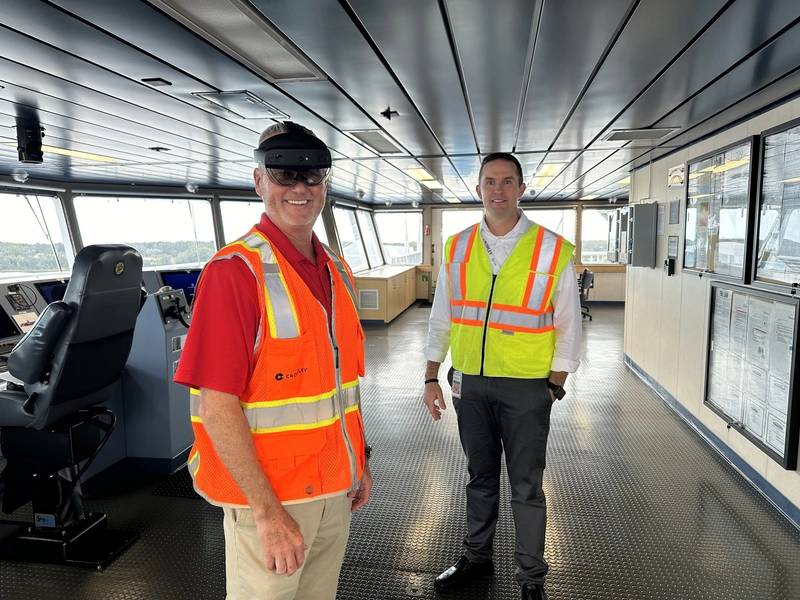 Augmented reality tested onboard El Coqui – in this case by the author – with Jeffrey Jönsson, Director of Process Engineering, Crowley Petroleum Services.
Image courtesy CrowleyDigital Path & Autonomy
Bundling digital technologies with AI talk often turns to full autonomy. While there are some amazing advances in autonomous boats and ships, most anyone in the industry today is highly unlikely to see autonomy become mainstream during their career.
Graziuso thinks this is an important message to convey, rationalizing that new mariners coming into the industry today are likely to have a long career with little to no concern of losing their jobs to autonomous technologies.
"I don't see technology as a threat for our mariners, rather an argumentation to do their job better, and to facilitate what they do today."
"One of the things that technology can do is to increase our level of safety and keep our crew out of things that are, quote/unquote 'dangerous': Going into an engine room to take data, this can be replaced by technology."
Two months ago Crowley and ABS inked a deal to jointly explore how to advance the use of augmented and virtual reality technologies for vessels and other marine environments, building on Crowley's new service network using augmented reality on select vessels. The crew wear goggle technology to provide real-time visuals of ship equipment to remote technicians to collaborate on solutions. The technology, developed by Kognitiv Spark, allows mariners and shoreside crew to more quickly complete maintenance, updates and upgrades on board.
ABS and Crowley will collaborate in a joint pilot project for classification-related survey support activities, such as aspects of annual and special surveys including task crediting. In addition, the project will include a variety of activities involving surveyors, engineers and back-office survey support, virtual walkthroughs and livestreaming using fully remote and hybrid survey techniques. Successful class surveys are important to operate vessels.
"[This project] leverages augmented reality," said Graziuso, experimenting with the ability to leverage shoreside expertise and resources to help conduct onboard situations, helping to address and solve onboard problems before the vessel returns to shore. "We have already done a couple of the tests – proof of concepts – and we are very satisfied with the outcome. Think of it how this can change the industry overall, because today inspections are done when a vessel arrives to the port [and an inspector comes onboard]. "Tomorrow – and it's not tomorrow like decarbonization, which is still 20 years down the line – really tomorrow, this can be done wherever you are."