China Mega-Bridge Coatings Contract Awarded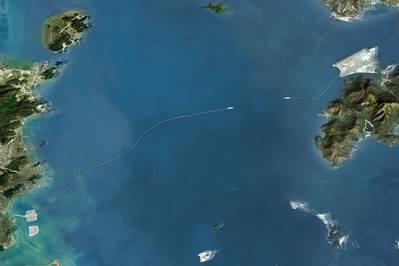 COSCO Kansai Paint & Chemicals win the Hong Kong-Zhuhai-Macao Bridge Authority's coatings contract for the 38-km long Pearl River estuary bridge.
The vast bridge in the South China Sea will form a fixed crossing over the Pearl River Estuary between Zhuhai and Macau on the western side and Hong Kong on the eastern side. The 29.6km main section is in Zhuhai waters and comprises 22.8km of bridge work including three cablestayed bridges with spans ranging from 280m to 460m, viaducts spanning 75m and 110m, a 6km tunnel and two artificial islands.

The coated steel-box girder of the project needs a total of 3.85 million liters (equivalent to approximately 4,744 tonnes) of coatings, in which 55% or 2.11 million liters (equivalent to approximately 2,600 tonnes) will be supplied by COSCO Kansai.

The HZMB is designed to be in use for 120 years, which is currently the world's longest design life for bridges, and so the requirements for protection of coating are stringent. The contract of the section TL02 won by COSCO Kansai is the largest project of all biddings in terms of project area, which amounts to approximately 3.15 million square meters.

In the coming three years, COSCO Kansai will supply anti-corrosion coatings on steel structure for the section won in the bidding, participate in the quality control and provide technical support during the process of construction.