New Rupert 80 Megayacht Takes Shape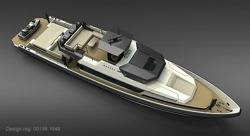 Sweden's Rupert Yachts has its first contract signed and production of the new Rupert 80 is under way
Rupert Marine's latest design is an 80-foot luxury motor yacht intended for owners of super yachts and other demanding customers and designed in cooperation with other well-known naval architects and designers, the exterior bears the signature of Ted Mannerfelt. This 80-foot yacht is the first in series of Rupert Yachts now in development.
Rupert 80 is being built in Sweden by skilled craftsmen to professional workboat and yacht standards and with a superior finish to interior and exterior.
This yacht is equipped with all the space and amenities for guests and crew you might expect.
Speed range between 32 – 46 knots and relevant fuel capacity will ensure a sufficient cruising range. Special attention is taken to low noise and vibration levels, high reliability for all systems and low maintenance costs.
Like other Rupert boats this 80-foot yacht can be customized to the specifications of the client.