Port of Melbourne's Mixed Fortunes in 2012-2013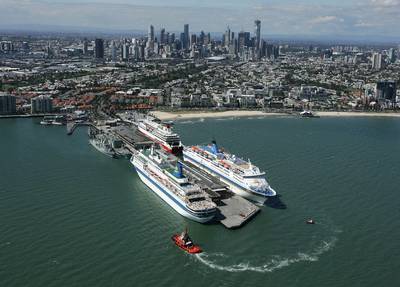 The Australian Port of Melbourne (PoMC) showed a strong balance sheet as it advances the Port Capacity Project and other port infrastructure, Minister for Ports David Hodgett announced before the State of Vicoria Parliament.
Finance & trade summary 2012-13
$65.9 million operating profit after tax
$56.8 million capital expenditure, including work on the Port Capacity Project
Total trade of 85.6 million revenue tonnes (down 1.6 per cent)
Total container throughput of 2.51 million TEU (down 2.6 per cent) 370,527 new motor vehicles handled (up 3.6 per cent)
Total dry bulk trade of 4.4 million revenue tonnes (up 4.4 per cent) Total liquid bulk trade of 6.5 million revenue tonnes (up 2.6 per cent)
PoMC recorded an overall profit after tax of $65.9 million for 2012-13 against the background of a small decline in overall trade of 1.6 per cent on the previous year.

Detailing the full year trade results, Mr Hodgett explained that while total container volumes declined marginally from last year's record peaks, new motor vehicles, dry bulk and liquid trades all recorded solid growth.

"After growth in container throughput approached 8 per cent in 2011-12, the Port of Melbourne handled a total of 2.51 million twenty-foot equivalent units (TEUs) in the year to 30 June 2013, representing a modest decrease of 2.6 per cent," Mr Hodgett said.

"While container import volumes fell in soft retail conditions, full overseas export containers recorded an increase of 0.6 per cent despite the high Australian dollar."

The Port of Melbourne also retained its leadership position as the premier automotive terminal in Australia handling over 370,000 units in 2012-13, up 3.6 per cent on the previous year.

"PoMC has backed up a strong financial and trade result with capital expenditure totalling $56.8 million including work on the Port Capacity Project, extensive wharf rehabilitation at Appleton Dock, together with a major redevelopment of the Port Operations Control Centre," Mr Hodgett said.

There were 55 cruise ship visits during 2012-13, bringing around 180,000 passengers and crew to Station Pier which is now busier than at any time in its history in terms of visitor numbers.
Around 70 cruise ship visits are currently scheduled to call at Station Pier for the 2013-14 season which will begin next month.