Metalcraft Towboat for U.S. Navy with UltraJet Waterjets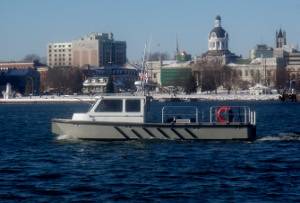 MetalCraft Marine has delivered its first 26-ft US Navy Tow Boat to Cheatham Annex. Metalcraft Marine was recently awarded a contract by the United States Navy for the construction of eight of their 26-ft tow boats. The tow boats will support the US Navy's spill recovery, support and salvage operations worldwide.
Fully loaded the aluminium tow boat can reach speeds of 34 knots with its Single Iveco NEF 450 hp engine rated at 420 hp (309 kW) driving a single UltraJet 305HT High Thrust Waterjet viz a ZF 280 gearbox. UltraJet waterjets were chosen for their high bollard pull for vessel recovery. During sea trials bollard pull tests achieved 3800 lb. Thrust vectoring is with Ultra's Hydromechanical control system with a single helm lever and the hydraulic power-assist steering provides light and responsive directional control.
The hull structure is built to ABS and IACS standards and features a compact forward wheelhouse with enough room aft for bulky cargo and equipment. Hand rails are removable for line handling, and the transom is equipped with a folding dive platform. The stern of the vessel is equipped with Norman pins to help guide tow lines. When the vessel is in storage the Norman pins double as kickstands, allowing the vessel to rest on its bottom plate with no additional support for stability.
The helm station is outfitted with Furuno
Navnet electronics package
, with a pair of Bostrom helm seats for the 2 crew. The cabin is equipped with Hammond Arctic Wolf heating and air conditioing, as well as
microwave
and coffee maker for crew comfort.
Other equipment on board includes a hydraulic power system to run a 15000 lb. capstan, as well as external oil skimmer pumps.
The vessel is also transportable by air in a C130 or C17.
Total fuel capacity is 175 USG allowing for a range of up to 240 nautical miles depending on operation speed.
Specification: 30-ft US Navy Tow Boat Pronto 30
Builder:
Metalcraft Marine US. Inc., Clayton, NY..
Designer
MetalCraft Marine Inc., Ontario, Canada
Craft type:
US Navy Tow Boat Pronto 30
Construction:
Aluminium Deep V Hull – Built to ABS and IACS standards
Length overall:
30' (9.1 m)
Displacement light:
11,000 lb. (5 tonne)
Displacement laden:
13,000 lb. (5.9 tonne)
Engine:
Single 6.7 litre Iveco 420 hp
Waterjet:
Single Ultra Dynamics 305HT
Reverse & Steering
Control system: Ultra Dynamics Hydro-mechanical