Steel Cut for Middle East's First LNG Harbor Tug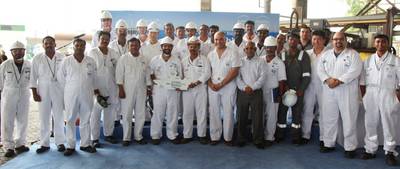 Drydocks World and Maritime World marked a milestone at the steel cutting ceremony for the Middle East's first LNG powered harbor tug Elemarateyah. Held in Drydocks World's state-of-the-art steel fabrication center, the beginning of this project sets a regional first and demonstrates Drydocks World's innovative approach to providing maritime and energy sector solutions.

This undertaking represents a breakthrough in the future of green technology and sets the course toward a green economy for sustainable development, the builder said. The large global reserves of gas and the energy efficiency of LNG fuel, compounded by stringent emissions standards, positions LNG as a commercially viable opportunity. LNG fuel has almost double the energy content of MDO fuel, with LNG approximately reducing emissions of NOx by 85% and CO2 by 25%. LNG as an alternative energy source is gaining momentum as the 'fuel of the future' among the global maritime community and Drydocks World strives to be a pioneer in implementing this green technology throughout their facilities, wholeheartedly supporting the Government of Dubai's environmental initiatives.

Drydocks World is experienced in building tugs and is now modernizing the yards tug operations through pioneering the LNG-power concept, with Elemarateyah due to be completed in May 2016. Drydocks World will embark on this project with active participation from Wartsila supplying the main engine and with Tasneef providing their valued classification services. Drydocks World shares many core corporate values with these companies such as safety, quality, customer service and environmental sustainability. Their relentless efforts and dedication to ensuring operational excellence coincides with the importance Drydocks World places on safe optimal productivity and continuous innovation.