RAL's RAmparts 3200 Tugs Achieve Milestone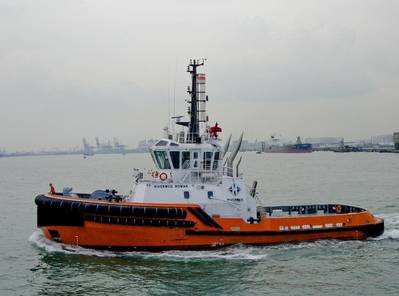 Early in 2012, Cheoy Lee Shipyards, Hong Kong, was awarded a contract from a South American client for three new RAmparts 3200CL class tugs. This marks a significant milestone for the popular RAmparts 3200 design as the order includes the 100th tug to be delivered to this design. There are few designs in the world workboat market to achieve this milestone in such a short time.

The RAmparts 3200 design originated from a Robert Allan Ltd. internal R&D program back in the early 2000's. The concept behind the RAmparts series of designs was to provide owners and smaller shipyards alike with a series of high-performance, well-proven ship-handling tug designs which could be built competitively in the worldwide tugboat market. Incorporated into these designs are all the features that have distinguished other advanced tugs from Robert Allan Ltd., including high speed, excellent stability, sea keeping, enhanced astern performance and manoeuvrability. The RAmparts 3200 design, together with other RAmparts family members, has proven that this idea has been successful and has benefited the workboat industry.

Sanmar of Turkey has the distinction of building the first RAmparts 3200 tug "Achille Onorato" to Rimorchiatori Sardi, Italy in 2004. The most recent deliveries, from ASL, Singapore, were the "RiverWijs Emma" and "RiverWijs Rowan" to RiverWijs, Australia. In between, more than a dozen shipyards in Turkey, China, South-East Asia, the United States, Europe, the Middle East, New Zealand and South America have been involved in the construction of tugs to variations of this design. Table 1 below shows the growth of the design with time. Table 2 indicates the areas of operation of these tugs at the time of delivery.