Miller Boat Line Receives Grant for Ferry Genset Refits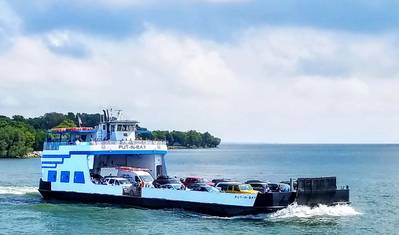 Great Lakes ferry operator Miller Boat Line announced it has received grant funding from the Ohio Environmental Protection Agency (EPA) that will help it to reduce diesel emissions from its vessels.
The $239,339 grant will cover approximately 40% of the replacement cost for seven (model year 1982-1996) diesel generator sets with Northern Lights model M50T13L generators on four ferries, the Ohio-based company said.
The ferry Islander will receive one new genset, and Put-in Bay, William Market and South Bass will each receive two. The four vessels were built between 1983 and 1997 and range from 90 to 96 feet long.
Miller Boat Line, which runs passenger/car ferries to Ohio's Lake Erie vacation islands, said the grant will be supported with $98,347 in U.S. EPA Diesel Emissions Reductions Act (DERA ) funds awarded to Ohio EPA, matched with $140,992 from the VW Diesel Mitigation Trust, and the Miller Boat Line's 60% cost share of $359,009.
Jake Market, vice president at Miller Boat Line, said the company is soliciting proposals from Great Lakes contractors for the work on a per-boat basis, noting that the South Bass refit will be performed this autumn at Great Lakes Shipyard in Cleveland, during the vessel's scheduled five-year drydock.
Ohio EPA estimates this project will result in a 43.3% annual reduction in NOx (nitrogen oxide) emissions and 66.1% reduction in PM 2.5 (particle pollution) emissions.