British Minehunter Afloat After Lengthy Drydocking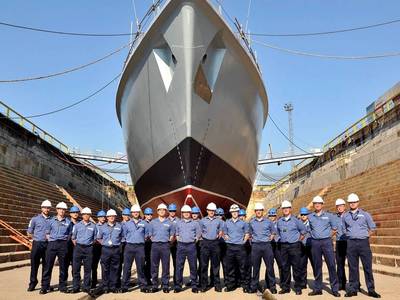 Royal Navy minehunter HMS Chiddingfold is back in the water after spending eight months in dry dock for a significant upgrade.
The ship has been fitted with new Caterpillar C32 diesel engines - replacing her old Napier Deltics - which will extend her operational life, improve efficiency and reliability and reduce emissions.
As well as new engines she has received upgrades to her machinery monitoring systems and computer systems, and had obsolete equipment removed.
HMS Chiddingfold's Commanding Officer, Lieutenant Commander Richard Rees, said:
"It is a real boost for the ship's company and the project as a whole to see the ship back in the water after a long time in dock, and we are excited to be the first to try out the new systems."
The 40-strong ship's company will now work with BAE Systems to test the new machinery before the ship starts sea trials later in the year.