Navy Doubles Minesweeper Presence in Persian Gulf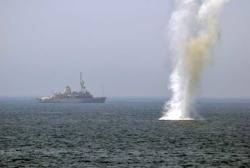 Navy to beef up its Persian Gulf mine-hunting capability
Four more minesweepers and four more minesweeping helicopters are to be sent to the Persian Gulf, a move which will increase the number of mine countermeasure forces available to keep open the sea lanes around the Strait of Hormuz should Iran choose to mine that critical waterway.
"We are moving four more minesweepers to the region, making eight," Adm. Jonathan Greenert, chief of naval operations (CNO), told the U.S. Senate Armed Services committee during a Navy budget hearing. "We want to improve our underwater minehunting capability."
He confirmed the mine countermeasures ships would make the journey from their base in San Diego to Bahrain aboard heavy-lift ships, the Navy's preferred way to get the slow-moving minesweepers, which have a top speed of about 14 knots, to the operating region without unnecessary wear and tear on their hulls and machinery. Heavy-lift ships are themselves rather slow, meaning it will likely be some weeks before the ships could get to Bahrain.
Four minesweepers already are based with the Fifth Fleet in Bahrain under a "forward-deployed" arrangement. The ships remain in the region year-round, while their crews rotate in and out at six-month intervals from the mine force's home base in San Diego.
The 1,379-ton minesweepers, crewed by 84 sailors, employ the SLQ-48 mine neutralization system to identify and destroy a variety of enemy mines.