'Queen of Mississippi' to be Christened, Set Sail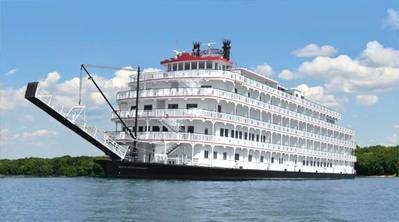 American Cruise Lines announces that the first authentic paddle-wheeler in 20 years will set off on first cruise after christening.

"The christening of Queen of the Mississippi is a meaningful way to celebrate the official launch of American Cruise Lines service on the Mississippi River," said Charles A. Robertson, president and CEO, American Cruise Lines. "Guests now have access to the industry's best amenities aboard an authentic paddlewheeler with a historic appearance."

The christening in Nashville, will be performed by Phyllis Dale , a nationally-recognized travel agent and small-ship cruise expert. Then Queen of the Mississippi will set sail at full capacity on an eight-day voyage from Nashville to St. Louis.

Queen of the Mississippi offers guests a brand new way to see the longest river system in North America and explore the remarkable port cities that line the way. Most of the ship's spacious 300-square-foot staterooms—the largest in the industry—offer private balconies while an all-American staff and crew cater to passengers' every need. Daily educational events and themed entertainment help paint a picture of what life on the Mississippi was like in days gone by.

Construction of Queen of the Mississippi was completed in June by Chesapeake Shipbuilding in Salisbury, Md., making it, says American Cruise Lines, the most luxurious, fully-functioning, authentic paddlewheeler in the industry.