Mississippi River Boat Clone Nears Completion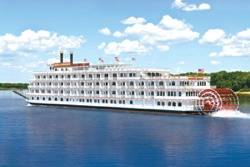 Paddle wheel installed on 'Queen of the Mississippi't
American Cruise Lines announce the latest development in the construction of its brand new authentic 150-passenger paddlewheeler, the Queen of the Mississippi, as it nears completion at Chesapeake Shipbuilding in Maryland. Last week, the massive 23-ton, 28 foot-wide paddlewheel built specially for the new riverboat was lifted and installed.
"This marks an important step in the creation of this authentic riverboat," said Timothy Beebe, Vice President of American Cruise Lines. "The paddlewheel is one of the most important elements of classic riverboats, and this one isn't just cosmetic – it's fully functioning."
Queen of the Mississippi a classic late 1800's re-creation will be completed in May, with its inaugural cruise scheduled for August 11, 2012 from New Orleans to Memphis.