Latest Transit Update: Upper Mississippi Pinnacle Rock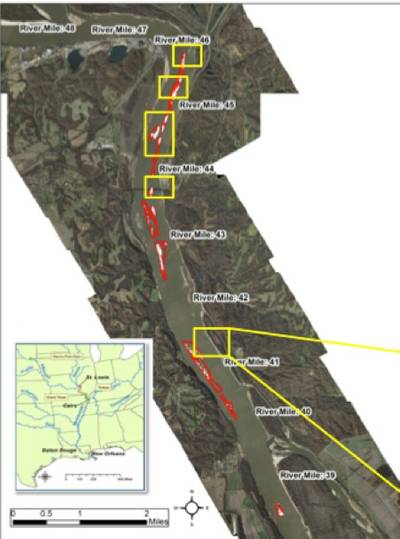 The Big River Coalition inform that the following transits restrictions have been established to allow traffic to pass during rock removal work operations at locations C-100 and C-101 (Thebes, IL).
The restrictions may be changed based upon conditions, including weather and experience with vessels passing while the rock removal operations are being conducted. The original request for these locations called for full channel closures and these new transit restrictions resulted from passing a test tow through this reach of the Upper Mississippi River (UMR).

The Coast Guard revised the information for the Regulated Navigation Area from Mile 0.0 UMR to Mile 109.9 UMR in order to promote safe vessel transits around this project. The transit restrictions are scheduled from 0630 hours to 1830 hours, Monday through Saturday, unless the contractor is not on scene.

The following is reproduced from the Broadcast Notice to Mariners:
"The Coast Guard has established a regulated navigation area from mile 0.0 to mile 109.9 umr for contracted subsurface rock removal operations. vessels with AIS must have AIS turned on and transmitting. Vessels transiting between miles 45 and 46 between 6:30 a.m. CST and 6:30 p.m. CST daily will be permitted to transit with the following restrictions:

DOWNBOUND VESSELS TRANSITING ARE RESTRICTED TO 9 TOTAL BARGES IN A 3X3
TOW CONFIGURATION OR A MAXIMUM TOW LENGTH OF 600 AND WIDTH OF 108 FEET.
UPBOUND VESSELS TRANSITTING ARE RESTRICTED TO 24 TOTAL BARGES IN A 4x6
TOW CONFIGURATION OR A MAXIMUM TOW LENGTH OF 1200 AND A WIDTH OF 140 FEET.
VESSELS MEETING THESE SIZE RESTRICTIONS MUST CONTACT THE VESSEL KEITH
JACOBSON ON VHF-FM CHANNEL 16 TO ARRANGE PASSAGE DURING WORK HOURS, AND
TRANSIT AT SLOWEST SAFE SPEED. IF YOUR TOW EXCEEDS THESE RESTRICTIONS IT
WILL NOT BE PERMITTED TO TRANSIT DURING WORK HOURS.

WHEN STOPPING TO AWAIT PASSAGE THROUGH THEBES, CONTACT THE SECTOR OHIO
VALLEY COMMAND CENTER AT 502-779-5424 OR 502-779-5449 TO BE PLACED IN
QUEUE. THE COAST GUARD WILL CONTACT VESSELS IN THE QUEUE TO FACILITATE
PASSAGE THROUGH THE THEBES AREA WHEN THE RIVER REOPENS TO ALL TRAFFIC."

The Big River Coalition also inform that The Corps' St. Louis District reports that the contractor has made only minimal progress this week due to an equipment breakdown and weather challenges. The surveys indicate that about 15% of the material has been removed (or freed) at both C-100 and C-101. The latest update indicates that overall 640 cubic yards (cy) of rock material of the 1,527 cy of the Phase 2 base contract or 42% has now been completed.
Source: The Big River Alliance