Sunken Mississippi Tugboat Causes Cruise Ship to Divert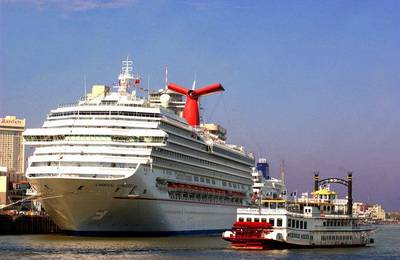 Passengers aboard the 'Carnival Conquest' cruise ship returning from a 7-day Caribbean vacation got an unexpected detour to Mobile, Sunday, a diversion required by the closure of a 10-mile stretch of the Mississippi River, reports 'The Times-Picayune'.
The US Coast Guard reports that they received a report Saturday at 12:10 p.m. from a passenger vessel near the 48-foot tug boat C-Pec that capsized and sank in the river at mile marker eight above Head of Passes near Venice.
The U.S. Army Corps of Engineers has also responded to assist in locating the sunken tug and currently has a boat on scene with sonar equipment searching for the tug. Plaquemines Parish Port Authority is also en route with specialized sonar equipment.

Two people from the sunken tug were reported to enter the river and were rescued by a good Samaritan and transferred to the Coast Guard response boat and taken back to Station Venice.

The C-Pec is completely submerged in the channel. There were four external 500-gallon tanks that broke free and produced a minor sheen. All tanks have been recovered, and the sheen has dissipated due to the river currents.

A full waterway closure was put in place at 1 p.m. on the Mississippi River from mile marker zero to mile marker 10 above Head of Passes.

The delayed arrivals and departures could cost shippers millions of dollars, based on past estimates of the costs of a day's closure of the river, according to 'The Times-Picayune', citing Port of New Orleans President Gary LaGrange.