MTU Engines for Sause Bros. Fleet Modernization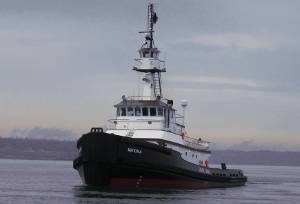 Starting with a single small wooden tug in the 1930s, Sause Bros. has grown its fleet to 60 tugs and barges. One key to the company's continued success has been a long-term fleet modernization program. A cornerstone of that program was the company's decision to replace its existing medium-speed marine diesel engines with high-speed marine diesels from MTU. It is a decision that is paying off in big fuel savings, better performance and improved dependability.
Sause Bros. barges petroleum, lumber, plywood, paper and chemicals between many Pacific Ocean ports in the United States, Central and
South America
, the
South Pacific
and even Russia. Typical one-way trips can range from 1,200 to 2,400 nautical miles, and some are much longer. In addition to cargo transportation, the company's vessels are hired for ocean-towing and ship-assist jobs.
Modernization program features MTU engines
To meet the demands of customers and regulators, while also controlling costs, 10 years ago Sause Bros. embarked on a 20-year vessel-modernization program. The program includes renovating old boats as well as constructing new ones.
Today, a little over one-third of the tugs and barges in the Sause Bros. fleet are powered by MTU Series 4000 and Series 2000 IRONMEN marine diesel engines. The tugs feature MTU Series 4000 engines with 12V and 16V cylinder configurations, as well as 12V Series 2000 and Series 60 engines. The most powerful of these engines, the 12V and 16V Series 4000 units, are installed in the company's long-distance ocean-towing tugs, while Series 2000 and Series 60 engines power tugs that operate in harbors. All of the company's MTU equipped barges are powered by Series 60 engines, which are longtime fixtures in the workboat market.
Fuel economy a key to survival
"At the time we started our modernization, we were burning about 15 million gallons of fuel a year, so we were looking for a way to be as fuel-efficient as possible," says Dale Sause, the company's president. "In the 1960s and '70s, fuel, maintenance and labor were all roughly the same percentage of our expenses, but as fuel prices have risen to over $3 a gallon, fuel costs rapidly became the 800-pound gorilla in the room, triple the size of the other two items."
Thanks to the modernization program, however, Sause Bros. has been able to achieve a 30 to 47 percent reduction in fuel consumption. The company estimates that up to 15 percent of the savings can be attributed directly to the new fuel-efficient MTU engines. MTU engines also offer lower lube-oil consumption and lower exhaust emissions. Series 4000, 2000 and 60 engines all meet EPA Tier 2 emissions standards, a requirement for boats operating in California waters.
Reliability is also a key
When it came time to choose from among today's best marine engines, Sause says that they ultimately chose MTU based on overall engine quality and reliability.
On long tows, Sause Bros.' captains sometimes operate their vessels for weeks at a time without shutting down the engines. What's more, these long trips can involve towing cargoes that weigh up to 25,000 tons into hurricane-force winds and seas as high as 40 feet. "During severe winter storms, you have to be up against the throttle for long periods of time, so you need an engine that's very reliable," Sause says.
Choosing high-speed engines
There were misgivings among some at the company about the move to high-speed engines. "The standard in our fleet, at the time, were 900 rpm, two-stroke engines," Sause recalls. "We had tried other brands of 1,800 rpm engines in the past, but they had not been successful at handling the constant loads and hours." With downtime costing up to $30,000 a day, those who had misgivings about the engines were concerned about reliability.
However, experience with the MTU engines has swayed the doubters, Sause claims. "If you ask them today, I think they would tell you that the quality and reliability of the engines has converted them."
Several performance advantages of MTU engines, such as faster throttle response, reduced noise and vibration, and more compact design, have been noted by the boat captains. Reduced noise and vibration are important for crew comfort on long trips, and the more compact engine envelope opens up more space in engine rooms.
Time between overhaul improvements
Another factor that helped sell Sause on MTU engines was their extended time between overhauls. TBO for Sause's MTU engines has been 30,000 hours, compared to 24,000 hours or less for competitive engines. That can translate into an additional 12 to 18 months between overhauls, he says.
As for the overhauls themselves, Sause reports that they've gone very smoothly. MTU distributors have dispatched technical representatives to supervise maintenance work and set up effective preventive maintenance programs.
So far in its modernization program, Sause Bros. has equipped more than 10 tugs with MTU engines. Over the next 10 years, the company plans to install MTU engines in dozens more tugs as part of both retrofits and new construction projects.