Moose Boats Awarded Fireboat Contract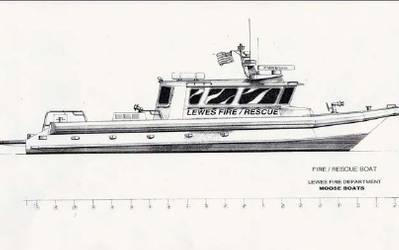 Moose Boats, a boat designer and manufacturer in has been awarded a contract by the Lewes Fire Department (LFD) to build a 44-ft. Catamaran Fire Rescue Boat. The custom M1-44 vessel will be exhibited prior to delivery to , at the 2008 International Workboat Show in .
LFD awarded the contract to Moose Boats in April 2008. This vessel has a pumping capacity of over 1000 GPM and powerful lighting to facilitate night operations. An M1-44 model can accommodate two patients requiring backboards, a crew of up to eight and would be operated from a center-positioned console, giving the helmsman anunobstructed view aft. In addition to VHF marine radios, depth sounders and 800 MHz fire radios, the vessel will be equipped with a thermal imaging IR camera, which would give rescuers the ability to see an individual's heat signature in zero-visibility conditions.
Moose Boats has been building custom fire boats with unique hydraulically driven fire fighting systems for over three years. The fire pump which is driven by PTOs from the vessel's two main engines allows no loss of maneuverability at low speed, while pumping water to its two fire monitors. Combined with a catamaran hull and water-jet propulsion, the M1-44 is ideal for fire and rescue applications in shallow water.