MSC Ships Complete at-Sea Offload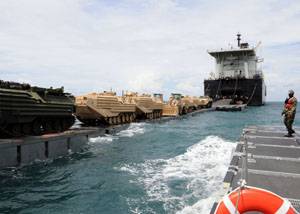 Two Military Sealift Command ships completed the at-sea offload of more than 350 pieces of equipment and supplies belonging to the 3rd Marine Expeditionary Force today in . The cargo, including wheeled and tracked vehicles, ammunition and supplies, will be used in Cobra Gold – an annual exercise designed to promote regional stability and security throughout .
Maritime prepositioning ships USNS 1st Lt. Baldomero Lopez and USNS 1st Lt. Harry L. Martin arrived off the coast of Chuk Samet, April 27.
Anchored about three miles from shore, Lopez and Martin offloaded a total of 16 pieces of lighterage – a type of barge used to move cargo from ship to shore – Apr. 27. Six pieces of this lighterage were pieced together to form a 180-foot by 63-foot floating platform called a roll-on/roll-off discharge facility, which was placed at the end of Lopez's stern ramp.
Offload operations began April 28 as rolling stock was driven down Lopez's ramp onto the floating platform and then onto powered lighterage, which transported the cargo to shore. Containerized cargo was lifted onto the powered lighterage for transport ashore by one of Lopez's three shipboard cranes.
A complex operation, this offload involved multiple Navy and Marine Corps commands including MSC, the 3rd MEF, Naval Beach Group One, Navy Cargo Handling Battalion One and Amphibious Construction Battalion One.
The ability to offload cargo at-sea is necessary when operating in areas when port facilities are either nonexistent or too damaged or primitive for ships to pull pierside.
Martin and Lopez will remain in through early June to backload their prepositioned cargo.
Prior to the arrival of Lopez and Martin in Thailand, MSC-chartered roll-on/roll-off ship SS Great Land off-loaded more than 460 pieces of 3rd MEF cargo, at Thung Prong and Chuk Samet ports Apr. 22-24.
More than 20 Navy reservists assigned to MSC are also in training in both real-world and computer-simulated sealift operations and exercises, managing port operations for as many as 15 ships in a contingency scenario. Some reserve personnel are manning a mobile sealift operations command center at Chuk Samet, a portable facility designed to operate and manage port operations in areas where port infrastructure is damaged or destroyed. Additional reserve teams will arrive in mid-May to coordinate the back load of Marine Corps cargo.