MSC Ships Deliver Military Cargo to Thailand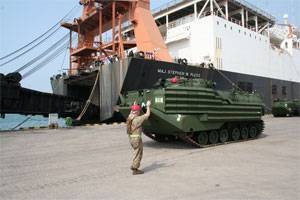 Two Military Sealift Command ships delivered hundreds of pieces of U.S. Marine Corps equipment and containerized supplies to Thai ports in late January as preparations ramped up for Exercise Cobra Gold 2009, the major multi-national exercise scheduled for Feb. 4 - 17 in Thailand.
Cobra Gold is a regularly scheduled joint and coalition multinational exercise hosted annually by the Kingdom of Thailand. Armed forces from Singapore, Japan, Indonesia and the United States are participating.
Training will consist of computer-simulated command post exercise, field training exercises and humanitarian and civic assistance projects.
USNS MAJ Stephen W. Pless, a U.S. government-owned ship used to preposition U.S. Marine Corps cargo at sea for rapid delivery ashore, offloaded 100 pieces of cargo in support of the 3rd Marine Expeditionary Force. Cargo included military assault vehicles, Humvees, trucks and other military vehicles, which were driven down the ship's massive stern ramp to the port of Laem Chabang.
Prior to Pless' delivery, MV Cape Howe, a cargo ship under charter to MSC, delivered 248 pieces of rolling stock and 30 containers of supplies to Chuk Samet, Thailand, Jan. 23.
A complex evolution, Pless' offload required close coordination between the ship's 28-person civilian crew who work for a private company under contract to MSC and Marines embarked on the ship. Because the Marines did not need to offload all of their equipment, Pless' cargo was selectively discharged using the ship's on board ramps and cranes.
"Since [the Marines] were selecting pieces from various parts of the ship, my role was to ensure the stability of the ship," said Darrell Jones, Pless' chief mate. "We needed to make sure that when the weight shifted, it didn't overstress the ship."
Pless is one of 15 Maritime Prepositioning Ships, or MPS, which strategically position U.S. Marine Corps equipment and supplies at sea, making them ready for rapid delivery to Marines ashore. Pless operates in the Western Pacific Ocean as part of MPS Squadron Three. Two other MPS squadrons operate in the Indian Ocean and Eastern Atlantic Ocean/Mediterranean Sea.
Navy Capt. Rick Daniel, MPS Squadron Three commander, and four of his staff members were also on board Pless at the port to provide operational and logistics support to the Marines.
Upon completion of its offload, Pless sailed about four miles offshore Jan. 31, where the is serving as a platform for seven sailors from Navy Cargo Handling Battalion One to train in deploying and operating lighterage, a type of floating barge used to ferry cargo from ship to shore. These barges are used to offload cargo at sea when port facilities are underdeveloped or unavailable.
Pless will remain off Thailand's coast until Cobra Gold is completed and the Marines' cargo is ready to be reloaded for at-sea prepositioning in late February.
Navy reservists from four of MSC's 17 Expeditionary Port Units are also participating in Cobra Gold. These highly mobile units quickly deploy to a contingency operation, establish port operations and manage the arrivals and departures of cargo ships in port. Participating units are EPU 111 of Oklahoma City; EPU 113 of Fort Worth, Texas; EPU 116, Everett, Wash.; and EPU 117 of Alameda, Calif.
MSC operates approximately 110 noncombatant, civilian-crewed ships that replenish U.S. Navy ships, conduct specialized missions, strategically preposition combat cargo at sea around the world and move military cargo and supplies used by deployed U.S. forces and coalition partners.