Unmanned Systems & Autonomy Are Force Multipliers, Says Admiral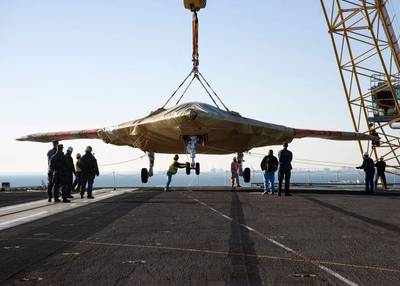 Focus Area Forums, are an initiative of Rear Adm. Matthew Klunder, the chief of naval research. The goal: bring together experts and find new and low-cost ways to support Navy and Marine Corps priorities, and advance disruptive technologies for our Sailors and Marines. 
The first Forum was on unmanned systems.
"The lifeblood of scientific research is generating new ideas and sharing information," said Klunder. "Bringing together multiple experts for a day allows us to really dive into the heart of various topics, to advance new ideas and technologies, and address challenges."


Nearly 200 participants came to the recent forum from across government, military services, academia, think tanks and industry to learn, share ideas, meet with ONR program officers and engage directly with senior naval leaders. "Unmanned systems and autonomy are force multipliers," said Klunder. 


This was ONR's first Focus Area Forum, and officials say the topic of autonomy is well-timed as the future force will increasingly rely on a hybrid of manned and unmanned capabilities-and as potential adversaries advance and build inexpensive threats.

Chief of Naval Operations Adm. Jonathan Greenert has already noted the importance to the Navy and Marine Corps of staying on the cutting edge of autonomy and unmanned systems. In his Sailing Directions, Greenert he says: "The reach and effectiveness of ships and aircraft will be greatly expanded through...unmanned systems," and adds that "unmanned systems in the air and water will employ greater autonomy" in future operations.


"One of the keys to advancing the field of autonomy is creating new collaborations across different disciplines that can bring important new ideas and methods to the research," said Dr. Marc Steinberg, the Science of Autonomy program officer at ONR. 



Norah Ayanian, a computer scientist researching multi-robot coordination and human interaction at the University of Southern California, said: "I think this forum has been great, I am having a lot of really good conversations with people. Having just started, I am looking for collaborators, so I found a lot of people that have complimentary interests."


About ONR
Through its affiliates, ONR is a leader in science and technology with engagement in 50 states, 70 countries, 1,035 institutions of higher learning and 914 industry partners. ONR employs approximately 1,400 people, comprising uniformed, civilian and contract personnel, with additional employees at the Naval Research Lab in Washington, D.C.