Mystery Barges Emerge on Both US Coasts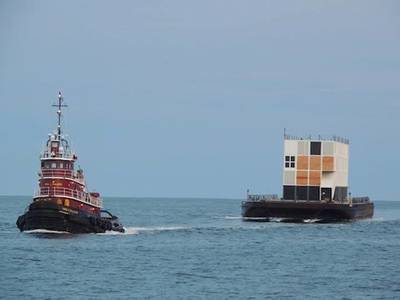 Two cargo barges have popped up on either coast of the country, prompting wild rumors about whether Google is behind the floating enigmas and what projects could possibly be in store, reports the Christian Science Monitor.

On the edge of Treasure Island, an old Navy base in the San Francisco Bay, the 250-foot long, 72-foot wide, four-story tall cargo barge with the registration BAL 0010 is not open to the public, and is heavily guarded at all times. It is also attached to a warehouse called Hangar 3, which has also been heavily guarded since it started working with a new tenant last year.
Meanwhile about two thousand miles across the country, a similar barge created by the same company at the same time with the registration BAL 0011, is floating off the quaint seaside town of Portland, Maine, also shrouded by the same high security and mystery.

Who is behind BAL 0010 and 0011? The Christian Science Monitor, citing the technology website CNET, says all signs point to Google, but what exactly Google could be doing with these giant barges has yet to be seen.
Source: The Christian Science Monitor