Maritime Business Growth in S. America: Navegistic 2013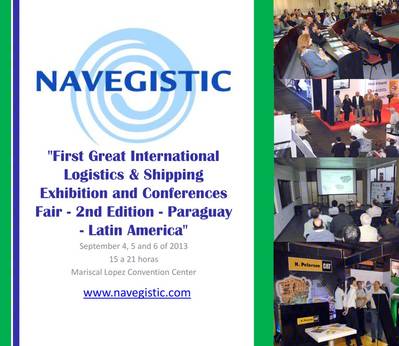 Upcoming Navegistic 2013 Show will highlight exponential maritime traffic & trade growth in S. America's Paraguay, Paraná, & Platte R. system.
The September 4-6, 2013, trade fair at the Mariscal Lopez Convention Center in Asuncion, Paraguay aims to provide information essential to regional business development in Argentina, Brazil, Paraguay, and Uruguay.

Mr. Lucas Varela and Mr. David Semeghini, long time participants in the maritime trade industry involving Paraguay and the surrounding countries, recognized a need for a forum where business people from around the world could meet local business and government officials to develop relationships that directly result in increased business. The first show in 2012 was a resounding success and participant responses demanded that this show should continue for the benefit of regional and international business growth.
The organiser's say that this year NAVEGISTIC 2013 promises to be a huge success. Demand for exhibit space has required changing the venue to double the fair size. Major companies from South America are being joined by Asian and North American companies to meet and exhibit during this forum. The show has generated a lot of interest from local government agencies and international regulatory bodies as well, including interested environmental groups.
For more information click here.