Navy, Coast Guard Capture Drug Sub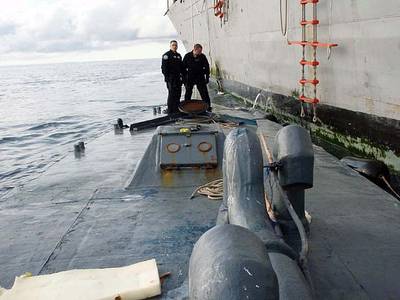 From Commander, Naval Forces Southern Command - Commander, 4th Fleet
Sailors from USS McInerney (FFG 8) and U.S. Coast Guard Law Enforcement Detachment 404 (LEDET) intercepted a self-propelled semi-submersible (SPSS) carrying seven tons of cocaine Sept. 13.
Sailors intercepted the 59-foot SPSS in a nighttime interdiction 350 miles off the coast of , capturing four suspected narcotics smugglers from and the large cargo of cocaine before the SPSS could be scuttled.
An SPSS is capable of carrying 3-5 metric tons of cocaine and has no maritime use other than the covert transport of narcotics or other illegal goods. An SPSS is between 25-65 feet long, travel at speeds up to 13 knots, carry 4-5 crew members, and can travel up to 2,500 nautical miles without refueling. An SPSS is dangerous to capture since it is designed with valves that smugglers can use to quickly flood and sink the vessel, posing a risk to boarding teams attempting to capture it.