Nevsky Shipyard Launches New Ferry Pavel Leonov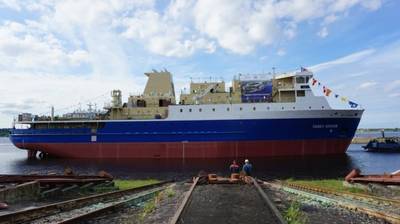 Russia's Nevsky Shipyard has launched the second and final cargo-passenger vessel as part of the PV22 project.
The newbuild Pavel Leonov, launched on August 6, is the second vessel in the series of two dry cargo-passenger vessel carriers ordered by Sakhalinlizingflot in August 2018. The series' lead vessel, Admiral Nevelskoy, was launched in May.
The 75-meter-long vessels are each designed to transport 146 passengers, general cargo, containers (including refrigerated) and cars between Sakhalin Island and the Kuril Islands and is equipped with a cargo crane with the ability to perform cargo operations on an unequipped shore. Designed by Marine Engineering Bureau-Design-SPb, each ship has a hold capacity is 895 cubic meters and is able to carry 24 containers, including eight refrigerated containers, and six passenger cars.
Nevsky Shipyard, part of JSC United Shipbuilding Corporation, said the ships' design is based on the Project MPSV07 rescue ship concept, offering higher maneuverability and improved ARC 4 class icebreaking capacity.