New Company: Lehmann Marine Offers COBRA Battery System
With the founding of Lehmann Marine, a subsidiary of Höpen GmbH, a new supplier of innovative maritime products such as the COBRA battery system has entered the maritime market in 2023.
The COBRA (Compact Battery Rack) battery system, which is freely scalable and tailored to maritime requirements, has several references in the shipping industry for the hybridization or electrification of vessels. Initially developed by Becker Marine Systems, COBRA has now been incorporated into Lehmann Marine, which was founded on January 1, 2023. Lehmann Marine is a subsidiary of the Family Office Höpen GmbH, which continues to be a shareholder in Becker Marine Systems and eCap Marine. Höpen GmbH and thus also the Lehmann family remain shareholders in Becker Marine Systems and are now also involved in the product COBRA.
The managing directors of Lehmann Marine are Godehard Gauf and Alexander Lehmann. "After we pushed ahead with the development of COBRA at Becker Marine Systems over the past six years, the product stands on its own two feet," said Godehard Gauf. Not only will the proven technology be a part of the new company – all 19 employees working in the COBRA division will be employed at Lehmann Marine.
"We are also already looking for more staff, especially for production at our location just south of Hamburg," says Alexander Lehmann.
Used in inland waterway and sea-going vessels for emission-free drives, the COBRA battery system is enjoying growing demand.
The work boat "Chicago" of Hamburg Port Authority was recently fitted with the COBRA system at the Hitzler shipyard in Lauenburg. In addition to successfully completed orders such as the hybrid ferry "Liinsand" and a tourist passenger ship, numerous other projects are already in an advanced phase.
COBRA meets the highest safety standards thanks to the LFP cell technology used (Lithium Ferro Phosphate). The COBRA system is scalable from a few kWh to several MWh due to the modular design - a COBRA battery rack can be equipped with up to eight battery modules and offers a capacity of 94 kWh per rack.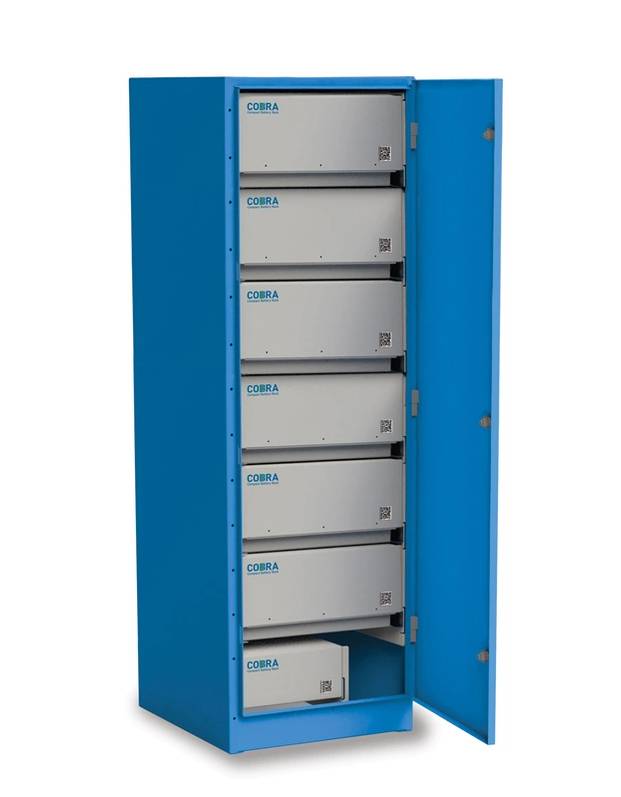 COBRA Compact Battery Rack with six modules. Images ©Lehmann Marine