New Double-Ended Ferry Crosses Same-Name River at the Atlantic Coast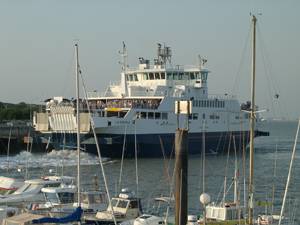 The Gironde Delta, Europe's largest estuary in the south-west of , is well- known not only among wine connoisseurs. The region, synonymous with high-class wines, is situated in the Département Gironde, directly at the Atlantic coast. A ferry service runs across a six-kilometer stretch between the picturesque towns of Verdon sur Mer and Royan. This ferry connection saves passengers a detour of approximately 155 kilometers and/or a car trip lasting some three hours. The double-ended ferry La Gironde, fitted with Voith Schneider Propellers (VSP), entered service in 2002. Now it will receive a sister ship, also installed with VSPs.
Owing to large tidal differences, the river mouth of the Gironde into the is characterized by strong currents. Varying flow directions and fierce, blustery winds aggravate ferry traffic. Already during the construction of "La Gironde" criteria such as high sailing stability and reliability proved to be the main incentive for the ship owner to decide in favor of the Voith Schneider Propeller as the ferry's propulsion system. Independently of the direction of prevailing currents, the VSP operates with continuously high efficiency and thus ensures a safe and economical ferry connection.
Just like the first ferry, the new ship specifies a draught limit of only 2.60 meters. "As a result of this limitation and the required sailing speed of at least 13.6 knots, the drive of the new ferry had to be divided into four VSPs size 21R5/135-2", explains Peter Sartori of Voith Turbo Schneider Propulsion. The new ferry will be built at the French shipyard Chantier Piriou in , and is expected to take up service in spring 2010. It is owned by the public authority Conseil Général de la Gironde, which also operates the sister ship "La Gironde." As a preventive measure, the authority has ordered a fifth propeller as a spare.
The offers room for 600 passengers and 138 cars or alternatively six trucks plus 93 cars. It is 78 meters long and 18.3 meters wide. In order to ensure a swift crossing of the six kilometer-wide river, the ship is designed for a target speed of 13.6 knots. In recent years, ferry traffic has increased significantly, not least because of the area's growing popularity with tourists. Each ferry gets through approximately 6 000 operating hours per year.