New Vessel Delivered for Navimag Ferries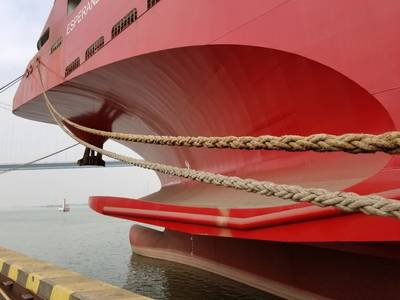 Navimag Ferries' newest vessel, Esperanza, has been delivered.
The 150-meter-long vessel can carry up to 274 passengers and has 1,800 vehicle lane meters. It will operate exclusively in Chile, sailing between Puerto Montt and Puerto Natales, and providing a transportation link with Chile's south, in addition to ferry cruising in the Patagonian fjords.
The newbuild's propulsion system includes two Wärtsilä 20 main engines, two Wärtsilä controlled pitch propellers (CPP) and two Wärtsilä gearboxes. The system is designed for optimal efficiency with low levels of exhaust emissions.
Wärtsilä said it worked in close cooperation with ship's designer Naviform Consulting & Research to develop an innovative total solution that aligned the propulsion with the hull form and the ship's operating profile.
"This project required a nonconventional design," said Cesar Barrera, CEO, Navimag. "Close collaboration was needed to ensure that the equipment ordered was dimensioned accordingly, and that both the operating and environmental performance met the high standards that we required."
Mark Keneford, General Manager, Marine Sales, Wärtsilä Canada, said, "Our ability to support the design process together with Naviform was very important to this project. The design is innovative, and we were able to deliver the right propulsion solution for the vessel, with high efficiency, reliability, low fuel consumption and lifecycle support as the key enablers."