NigerStar 7 Adds Pipelay Vessel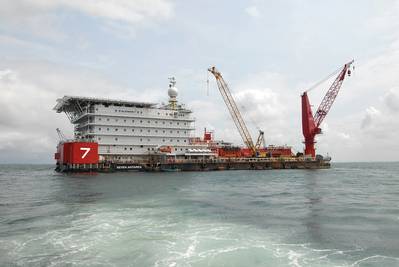 NigerStar 7, a joint venture between Subsea 7 and Nigerdock, said it has acquired 2009-built pipelay vessel Seven Antares,
The Seven Antares, previously owned by Subsea 7, has a 300-ton main crane capacity and is a 120-ton S-lay vessel with capacity to lay pipe of up to 60-inch diameter; with an accommodation area in excess of 330 berths and a deck area of over 1,300 square meters.
"The vessel will provide both NigerStar 7 and Nigeria a fully owned versatile pipelay vessel ideal for conventional, heavy-lifting and hook-up projects," the company said in a press release this week.
Derek Izedonmwen, Sales & Marketing Director of NigerStar 7, said, "The Seven Antares acquisition is a very important milestone for us. I'm deeply proud of this investment, as it reinforces NigerStar 7 commitment to invest in Nigeria through the acquisition of strategic local assets and to continue to invest and to develop our people.
"The Seven Antares is currently laying pipe for one of our clients and I'm sure she will be kept busy supporting the growth of Nigeria's energy industry," Izedonmwen said.
In April 2018, Subsea 7 was awarded a contract by Mobil Producing Nigeria Unlimited for the Production Uplift Pipeline Projects (PUPP) in shallow water, offshore the West African country. The contract scope includes engineering, construction, transportation, installation and pre-commissioning of 20 kilometers of 24" Corrosion Resistant Alloy (CRA) pipeline between the Idoho Platform and the terminal onshore and of 2 kilometers of 24" CRA pipeline between the Edop and Idoho Platforms, as well as associated topside modifications and tie-ins at both ends.
For NigerStar 7, the Seven Antares acquisition adds to other recent investments to strengthen its local fleet. The company acquired DP2 anchor handler NigerStar 7 Adaba (previously Nor Cheif) in 2018, and it added a 60-meter cargo barge CB34 earlier this year. NigerStar 7 also operates jack-up accommodation and crane barge Seven Inagha.