'USS Nimitz' Shows the Flag in Korea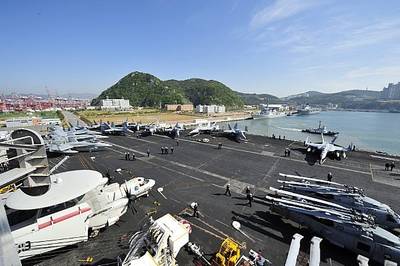 The U.S. nuclear-powered aircraft carrier arrives to participate in joint naval drills as part of routine training according to the Combined Forces Command.
The 97,000-ton Nimitz, one of the world's largest warships, made a port call at the southeastern port city of Busan for a three-day stay to participate in joint military drills in southern and eastern waters of the Korean Peninsula.

Carrier Strike Group (CSG) 11 is comprised of the aircraft carrier USS Nimitz (CVN 68) along with embarked Carrier Air Wing 11, Arleigh Burke-class guided-missile destroyer USS Preble (DDG 88) and Ticonderoga-class guided-missile cruisers USS Princeton (CG 59) and USS Chosin (CG 65).

This year marks the 60th anniversary of the bond between the two nations, a bond Rear Adm. Michael White, commander, CSG 11, said has only strengthened with time. 

"It is always a pleasure when we have the opportunity to meet with our allies in the Republic of Korea," said White. "I'm looking forward to deepening the close friendship enjoyed by the Republic of Korea and the United States."