OSV Ship of the Year 'North Sea Giant'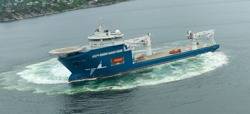 The 'Offshore Support Vessel of the Year Award' for 2012 was won by North Sea Shipping's 'North Sea Giant', built to DNV class at the Metalships & Docks shipyard in Vigo, Spain
The North Sea Giant is considered to be the largest offshore vessel of this type ever built, with an overall length of 156m, beam of 30m and installed power of more than 22MW.
The vessel was given the prize for her innovative features, which include advanced dynamic positioning (DP) capability for DP operations based on a high redundancy level and high propulsion power.
North Sea Giant has a capacity for 120 people and its structure is highlighted by its heliport on the bow and a bridge placed up on the sixth deck of the vessel. The vessel boasts a working deck area of close to 3000 sqm .
Introduced in 2010, the 'Offshore Support Journal Awards' have been well received by the industry and this award recognises the owner, designer and builder of an offshore support vessel that has been delivered in the past calendar year and is considered to have set an industry benchmark through innovative design and efficient operation.