NV Charts Debuts New Northeast Regional Chart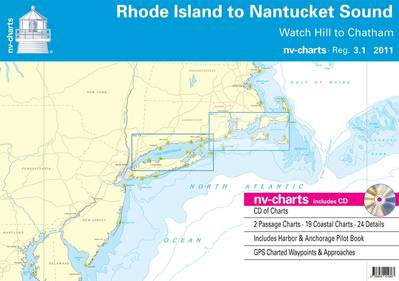 One of the most popular boating and cruising areas on the U.S. East Coast, the region from Long Island, New York to Nantucket, is now available in improved format and readability from NV Charts.

Region 3.1: Rhode Island to Nantucket Sound, including the waters from Watch Hill, R.I. to Chatham, Mass., on the lower end of Cape Cod, includes Nantucket, the Elizabeth Islands and Buzzard's Bay, Block Island, Block Island Sound and all of Narragansett Bay.

The nv charts Region 3.1 set is provided in paper and digital format for sailors, motor boaters, fishermen and professional mariners, and cruising enthusiasts. It includes 2 passage charts, plus 19 coastal charts and 24 detailed areas (harbors and anchorages) all in a manageable set that is designed to fit neatly on a chart table and includes a CD with all the charts in digital format, GPS charted waypoints and approaches, and a handy and very useful Harbor & Anchorage Pilot Book. This chart set is based on NOAA data with a new layout, clear cartography and international chart standards.

NV Charts says it offer features not found in other traditional NOAA chart sets, e.g., more distinctive shore and shallows cartography, aids to navigation and light characteristics, tidal information, and even four helpful pages in the back outlining symbols, legends and other data that help the navigator interpret the information in the chart. The cartography is visually distinct; unique color differences make specific depths, shoals, reefs, exposed tidal areas stand out for quick, easy recognition. Also, lighthouses illustrate their light characteristics for better identification. Legend pages at the back of the set provide a guide to symbols, legends and other data that help the navigator interpret the information in the chart.

Region 3.1 charts in digital format are also available on SD memory cards for chartplotters including Lowrance, Simrad and B&G chartplotter systems and are compatible with all instruments in the Lowrance HDS Series, Gen. 1 and 2; Simrad NSE, NSS, and NSO systems and all B&G Zeus series systems.

The chart sets retail at $69.95 and can be purchased online at www.nvcharts.com or from local chandleries and marine supply stores. It can be combined with Region 3.2, which includes all of Long Island Sound, at a combination discount.