Northern Sea Route: Sabetta Port Seen as Focal Point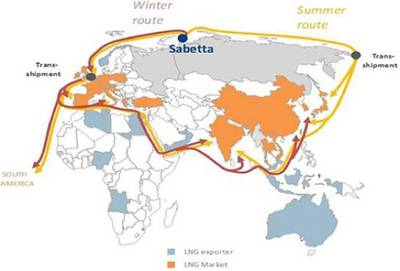 During a meeting on the implementation of the Yamal LNG project, Russian President Vladimir Putin noted the value of the seaport of Sabetta for further development of the Northern Sea Route, reports 'Arctic Info'.
According to the President, the volume of traffic on the Northern Sea Route this year was 1.5 million tonnes. By 2015, this figure may reach 4 million tons, and he considered that the construction of the modern Arctic port, with construction funds of 47.3 billion rubles, should consolidate this trend.

Yamal LNG Port is a complex structure, a complex facility and construction will take place in an area of marshes and tundra permafrost. There will be conditions that are difficult to predict in advance, and this of course, may also result in higher costs of work, reported Arctic Info. citing President Putin.
Source: Arctic Info (Russia)