Northern Sea Route Record Transit by Gazprom Tankship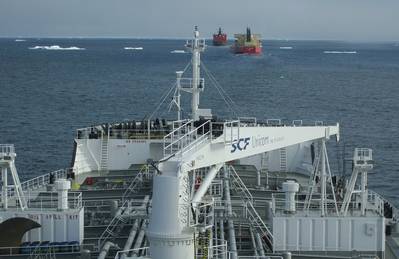 The Russian Gazprom tankship 'SCF Amur' recently transited the Northern Sea Route in a record 7-days.

In January 2012 Gazprom and Sovcomflot reached an agreement on arranging a test shipment via the Northern Sea Route to deliver the Gazprom hydrocarbons to the Asia-Pacific market, taking into account the growing urgency for energy resources supplies to the region.

The recemt passage of the SCF Amur became the fourth transit passage from the Atlantic to the Pacific Ocean through the Arctic for Sovcomflot.

The Sovcomflot passages along the Northern Sea Route that began in 2010 have already been noted in world navigation history. In 2010 the SCF Baltica became the first large-capacity vessel that ever passed through the Northern Sea Route loaded with petroleum products. In 2011 the Vladimir Tikhonov of 163.000 dwt discovered a new high-latitude route within the Northern Sea Route and became the largest vessel ever navigated along the Arctic routes.